Rising SNP could back a minority Labour government in 2015 – Salmond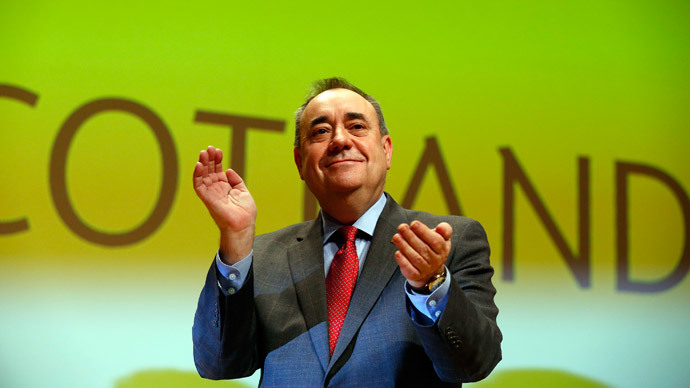 Former Scottish First Minister Alex Salmond has hinted the Scottish National Party (SNP) would be prepared to back a minority Labour government in Westminster by allowing its MPs to vote on laws that only affect England, on which they currently abstain.
Salmond's suggestion of support on a "vote by vote" basis could enable a minority Labour government to hold power, in the event the party is unable to secure an outright majority in the general election next May.
SNP MPs currently abstain from votes on legislation that relates only to England.
Speaking to The Independent on Thursday, Salmond said he would lay odds on a "balanced parliament," also known as a hung parliament.
Salmond's hint came on the eve of the official election campaign period, as enforced by the Electoral Commission. Friday marks the start of the "long campaign" period, with limits on party spending coming into force.
It also follows current Scottish First Minister Nicola Sturgeon's announcement on Monday that she would only support a Labour government if it agreed to scrap Britain's Trident nuclear submarine deterrent.
READ MORE:Nuclear ultimatum: Scottish National Party challenges Labour on Trident
While Salmond cited his opposition to the modernization of Britain's nuclear weapons program, he did not signal the issue was a deal breaker.
The SNP would "align with progressive forces to seek progressive gains for people across these islands," he said.
READ MORE:Anti-austerity coalition? SNP, Greens and Plaid Cymru consider pact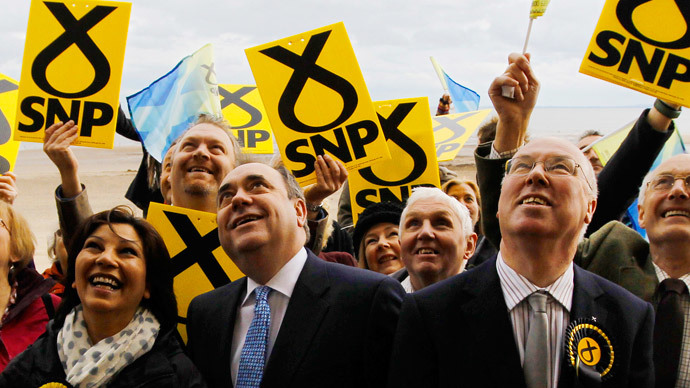 Salmond, who intends to stand as an MP in the general election next year, repeated his party's refusal to back the Conservative Party in a hung parliament.
"We won't give succor, help, assistance to the Conservative Party and the reason is David Cameron waltzing out of Downing Street and showing his true face the morning after the referendum," he said.
Salmond listed two pieces of legislation, not directly affecting Scotland, which he opposed while he was an MP in Westminster – tuition fee increases and the introduction of foundation hospitals.
"There will be many things that come across the Westminster desk that would be of little moment to Scottish people, but will be of great moment to the government of the day," he said.
Salmond forecast a "barrel-load" of SNP MPs would win seats in Westminster in the general election.
Alex Salmond floats Labour-SNP coalition in order to make Scottish Labour voters feel more comfortable voting SNP. Labour have no response

— Aric Gilinsky (@AGilinsky) December 19, 2014
A clear SNP victory in Scotland would enable them to secure further powers for the Scottish parliament, as promised by the Labour, Tory and Liberal Democrat leaders in the final days of the independence campaign in September.
"That's an opportunity to have delivered to Scotland what we have been promised," he said.
The possibility of no party gaining a clear majority in the UK general election appears more likely as support for UKIP, the SNP and the Greens continues to grow.
A YouGov poll published on Saturday put the SNP's support in Scotland at 47 percent, while Labour lagged behind with 27 percent. The SNP's membership has also jumped from 25,000 to more than 93,000 since the referendum.
Scottish Labour's diminishing popularity will be the primary challenge facing the party's newly installed leader north of the border, Jim Murphy.
While Salmond appears to be offering Labour an olive branch in Westminster, his party's intention to defeat Scottish Labour is moving closer to realization.
You can share this story on social media: