'We won't pay extra': France threaten to veto Cameron's proposed EU treaty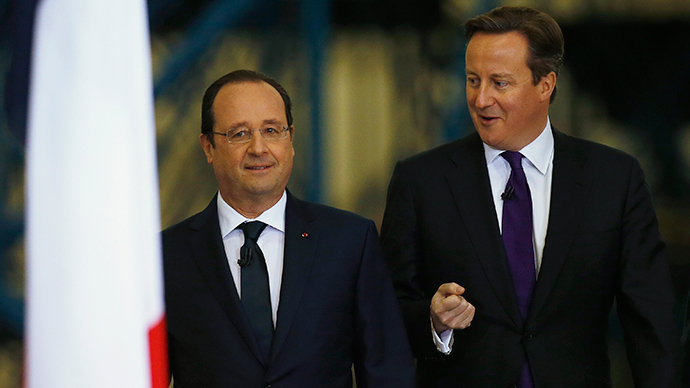 French President Francoise Hollande will threaten to veto David Cameron's attempts to renegotiated Britain's relationship with the EU at a meeting on Thursday.
Hollande is expected to rebuff the prime minister's outlined plans by telling him he is "obsessed with his own problems" and block his request for a change to the EU treaty, the Telegraph reports.
The meeting will reportedly happen at the European Council summit in Brussels, where the Hollande will tell Cameron his renegotiated EU treaty is both unnecessary and a product of the rise of the UK Independence Party (UKIP).
A French government source told the Telegraph that France was not willing to pay for the UK's presence in Brussels.
"We will not pay an extra price to keep the UK in the EU," the source said.
"The price to keep Britain in Europe keeps getting higher and higher. It is now up to the UK to decide."
Hollande is expected to make it clear to the Prime Minister he must have the unanimous agreement of all countries to pass a renegotiated treaty, and will threaten the use of France's veto.
If Cameron is re-elected in May he will attempt to distance the UK from the EU and try to pass a new treaty which includes an opt-out for Britain on the principle of "ever-closer union." He has said any negotiations will have immigration at their core.
The French government source said, "There is no demonstration of the need for new rules and no urgency" to alter current ones.
Former Defence Secretary Liam Fox condemned the French decision to block Cameron, calling it the "height of stupidity."
He said if the French were to use its veto it would jeopardize plans for much needed change in the EU and threaten attempts for eurozone recovery.
Fox also called current EU leaders "out of touch."
"The prime minister wants to get the best deal for Britain. To threaten to veto treaty change, before you know what the proposed change is going to be, is utterly symptomatic of how utterly out of touch the current European leaders are," he said.
"They ignore the need for change, and plough on relentlessly towards their 1950s objective of ever-closer union. If they break, it is because they won't bend," he added.
The UK's popularity in the EU, however, has seen a decline in recent months following incidents such as the refusal to pay the £1.7 billion EU bill.
"Britain's political prestige in Europe is lower than I have ever known it," said one senior EU diplomat.
"It has not been helped by recent British behavior over the EU budget, which was widely regarded as childish."
The blow to Cameron's EU plans comes as a Foreign Office report suggested the EU is tightening its grip on British businesses, accusing it of "mission creep."