European Parliament votes to recognize Palestine statehood 'in principle'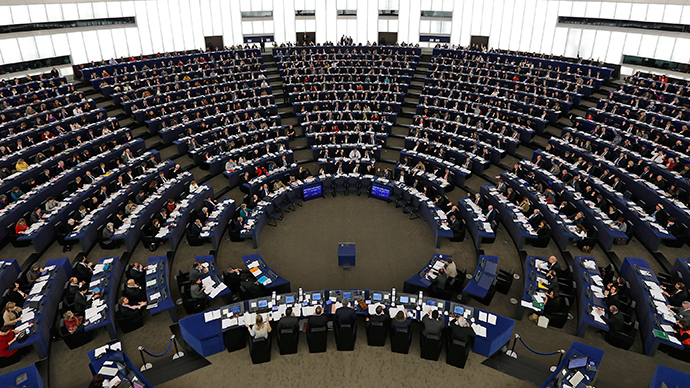 The European Parliament has adopted a resolution recognizing Palestinian statehood in principle. A total of 498 MEPs voted in favor, while 88 were against.
A parliamentary session in Strasbourg on Tuesday could not decide on the matter, opting for further negotiations, but on Wednesday the European Parliament eventually adopted a resolution that "in principle" grants the troubled region statehood.
"[The European Parliament] supports in principle recognition of Palestinian statehood and the two-state solution, and believes these should go hand in hand with the development of peace talks, which should be advanced," the motion said. The vote also saw 111 abstentions.
The European Parliament reiterated its support for the two-state solution "on the basis of the 1967 borders, with Jerusalem as the capital of both states, with the secure State of Israel and an independent, democratic, contiguous and viable Palestinian State living side by side in peace and security on the basis of the right of self-determination and full respect of international law."
MEPs emphasized the EU's strongest opposition to any acts of terrorism connected with Palestinians' campaign for statehood, however.
Several of the EU's 28 member countries were already in favor of full recognition. Sweden in October became the only EU member so far to officially recognize Palestine as an independent state.
The European Parliament vote comes as the Palestinians are soon to make their case at the UN Security Council in New York, where they will ask for a complete Israeli withdrawal from East Jerusalem and the West Bank to the 1967 borders in two years' time.
These discussions follow a tense summer period when Israel carried out its controversial Protective Edge operation against the Palestinian militant group Hamas in the Gaza Strip, and elicited international condemnation for the number of civilians killed and damage that would take decades to undo.
READ MORE: Palestine resolution: US 'unresolved' ahead of Security Council meeting
Israeli Prime Minister Benjamin Netanyahu is adamantly against any resolution under which Palestine gains back the occupied East Jerusalem and West Bank, believing it would lead to "terrorists" running wild and causing regional problems.
"Attempts of the Palestinians and of several European countries to force conditions on Israel will only lead to a deterioration in the regional situation and will endanger Israel," Netanyahu said Monday.
Although the US, which has been trying to broker a two-state solution, has been a close ally of Israel for years, it is now also taking on a more stern tone with the Israeli leadership.
"This isn't the time to detail private conversations or speculate on a UN Security Council resolution that hasn't even been tabled, no matter what pronouncements are made publicly about it," US Secretary of State John Kerry told journalists Tuesday.
It remains to be seen what Washington's actions will be at the Security Council, when Palestine makes its case for a full Israeli withdrawal.
You can share this story on social media: