Veiled threat? Tougher regulations against wearing niqabs in court – UK judge
Published time: 12 Dec, 2014 18:20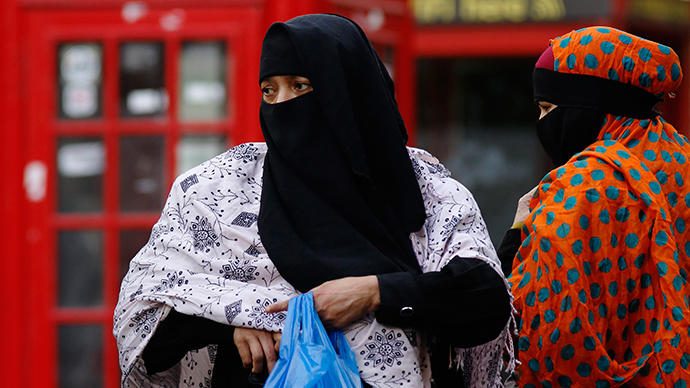 Britain's most senior female judge has called for tougher regulations forcing women to remove traditional Islamic veils while giving evidence in court.
The deputy president of the Supreme Court, Baroness Hale of Richmond, said Britain's judiciary and government must find a way to ensure that Islamic garments like the niqab do not obscure the faces of women giving evidence in key parts of British hearings.
She told the Evening Standard newspaper it is imperative judges can visually log witness' facial expressions to gauge whether they are telling the truth. She added it is also important for judges and jurors to accurately identify people who take the stand.
Judge Hale suggested the necessity for a more stringent approach was highlighted in a recent family law case, where she came across a woman who was found to be deceiving the court when she was asked to remove her niqab.
"We should devise ways of making it possible and insisting people show their full face when it is necessary," Judge Hale said.
"We don't object to allowing people to do things for sincerely held religious reasons if they don't do any harm. If it does harm, we have to be a bit tougher."
Although Britain has yet to follow France and Belgium into veil-banning territory, the UK debate about the full-face veil in courtrooms remains heated.
On Thursday, the capital of China's western Xinjiang region – home to its Uighur Muslim minority – officially banned the wearing of veiled Islamic robes in public amid pressure from Beijing to crack down on religious extremism.
Experts warn the decision to outlaw the face veil will further stigmatize the minority Uighurs.
Muslim, feminist, liberal and devoted anti-racism campaigner, Myriam Francois-Cerrah, has argued against the stereotyping of Muslims as radicalized, anti-UK, or terrorists in Britain.
In her most recent book, Refusing the Veil, she said the garment is symbolic of the inferiority of women.
"The veil," she stresses, "in all its permutations, is indefensible and unacceptable."
Amnesty International has condemned the banning of face veils as "an attack on religious freedom." The human rights organization says constraints on women wearing such veils are a violation of their fundamental rights. It also argues, however, that the forcing of women to wear such garments is a serious rights violation.
Last year, PM David Cameron backed UK judges calling for people to remove full-faced veils in UK courts. But he said he did not endorse an outright ban on the wearing of such garments in public places. While Cameron suggested at the time he would consider introducing fresh guidelines to judges on when they can ask people to remove their veils, no concrete policy shift has emerged.