'Band Aid 30' Christmas song 'cringeworthy' – Ebola survivor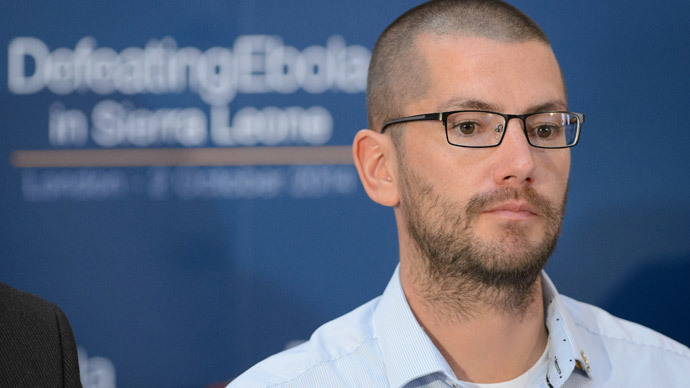 A British nurse who survived Ebola said the lyrics of the Band Aid 30 single to raise money for anti-Ebola charities are embarrassing and ignorant.
William Pooley, 29, contracted Ebola in Sierra Leone in August, but survived after having been evacuated in a military airplane and treated with the experimental drug ZMapp in London.
He said the song is "definitely being talked about here among my colleagues."
"But stuff about 'Do They Know It's Christmas?' It's just like, actually people live normal lives here and do normal things," he told the Radio Times magazine.
"It's Africa, not another planet. That sort of cultural ignorance is a bit cringeworthy. There's a lyric about 'death in every tear'. It's just a bit much."
READ MORE:5.7k dead, 16k infected: Ebola toll rises in W. Africa amid 'stable' situation
Pooley has now returned to Sierra Leone to treat Ebola patients in an isolation unit.
He urged people to donate to charities working directly to treat Ebola, as money from governments was arriving slowly.
"There are still people outside the front of the hospital dying of Ebola because there aren't enough beds for them. I had hoped that by now that would have been over."
His comments come after pop star Emeli Sande, who contributed to the single, said she thought the lyrics needed to be re-written and that she had edited her lines, but that the edits were cut.
READ MORE:Ebola: Has the world stopped caring?
Speaking before Pooley's comments, Bob Geldof said he didn't care about criticism of the song. He added, "It's a pop song, it's not a doctoral thesis."
One Direction, Bono, Chris Martin and Ed Sheeran were among the performers for the 30th anniversary version of 'Do They Know It's Christmas?'
The song, put together by Bob Geldof, became the fastest selling single in Britain of 2014.
The death toll from Ebola currently stands at around 6,331 in the three worst-affected countries Liberia, Sierra Leone and Guinea, according to the World Health Organization.
You can share this story on social media: