'A price that works for our country': Osborne spurns warnings, backs further austerity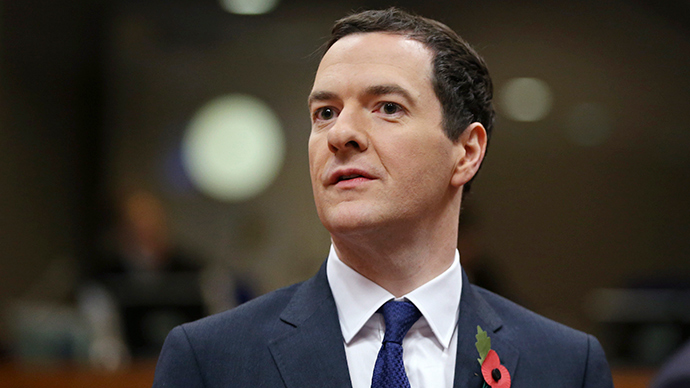 Chancellor George Osborne has reaffirmed his support for the government's austerity policies, calling them a "price that works for our country."
Speaking to the BBC on Monday, he said welfare and benefits cuts were essential to make savings, and that economic growth and stability were the most important target for the economy.
"We are going to have to make savings ... we are going to have to cut certain welfare bills like benefits that go to working-age people," he said.
"But the prize is economic stability, growth, jobs in the future… brighter future, I think that's a price that works for our country."
The statements highlight a rift between the Conservative and Liberal Democrat coalition partners. Both are preparing to stand separately in next year's general election.
Speaking to BBC Political Editor Nick Robinson, the chancellor compared the Lib Dems to Labour and UKIP, saying they offered a "chaotic alternative" of higher taxes, borrowing and spending, which would plunge Britain into "economic chaos."
However, he did not accept that thousands more public sector jobs would be lost as a result of further austerity cuts, calling his plans "realistic decisions."
"It depends on the decisions we are prepared to take on pay. If we go on taking what I think are realistic decisions on public sector pay then we can still afford to have people in sufficient numbers in the public sector to do the job we ask of them," he said.
The statements come despite a number of economists and activists warning further cuts would have substantial and potentially irreversible effects on the UK economy.
Writing in the New Statesman magazine this week, political editor George Eaton said all three major parties are failing to honestly forecast how much they would have to cut in order to continue the austerity program.
"The Institute for Fiscal Studies (IFS) estimates that £12 billion of additional consolidation will be required merely to maintain departmental spending cuts at their current level: a gap no party has come close to bridging," he writes.
"Some are more guilty than others – the Conservatives' promise to cut taxes by £7.2 billion, avoid further tax rises and eliminate the deficit by the end of the next parliament being the most egregious – but none is innocent. Divided on much else, the parties are united in a conspiracy of silence about the pain ahead."
Following the chancellor's pronouncements in last week's Autumn Statement, the IFS also said less than half of planned spending cuts to public services had been implemented to cut the budget deficit, and that a further £55 billion was needed in order to eliminate it by 2020.