Britain warned austerity policies weakening army
Published time: 5 Sep, 2014 13:09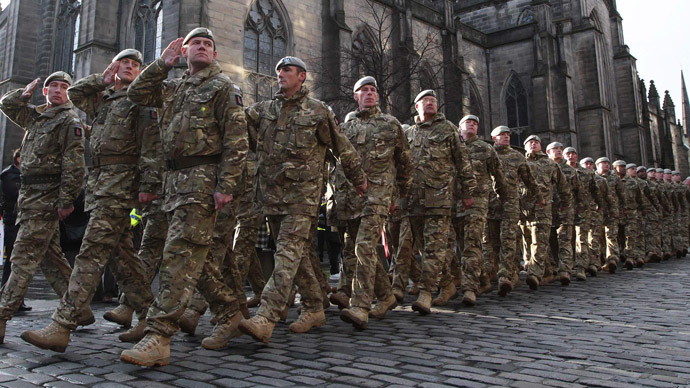 Experts warn the British government's program of cuts has 'damaged' the army, leaving it 'vulnerable' during a period of heightened geo-political tensions.
"Shortfalls in Army recruitment are increasing the risk of capability gaps emerging in some parts of the Army's structure,"warned the UK's Public Accounts Committee, following a review of the government's "Army 2020" plan.
Under the plan, defense spending has been cut by 8 percent over the past four years, as part of the government's agenda to reduce its budget deficit.
Since the plan was implemented, the British army has shrunk to its smallest size in modern history, from 102,000 full time officers in 2010 to 82,500 at present.
In a speech given shortly before the start of the NATO summit on Thursday, Defence Minister Michael Fallon also encouraged NATO members to invest more in their armies, particularly those who currently invest less than the alliances' spending target of at least 2 percent of national GDP.
At present, only the UK, US, Greece and Estonia meet these targets, while austerity measures across mainland Europe have forced most EU states to make heavy cuts to their military forces.
Fallon also encouraged NATO members to spend more on research and development into military technology, highlighting Britain's Ministry of Defence £3.5 billion deal with General Dynamics UK to purchase a new fleet of armored fighting vehicles.
"When we talk about spending, quality as well as quantity counts... So we are urging all allies to spend 20 percent of their defense budgets on new equipment, and research and development of capabilities," Fallon said.
"NATO was formed on the basis that Europe would pay her way," he said. "Like any insurance policy, defense only pays out when you pay in," Fallon added.
While future military spending will be decided after next years' strategic defense and security review, some analysts have criticized Cameron's request to NATO countries. Independent think tanks such as the Royal United Services Institute (RUSI) say that Cameron is still only committed to maintaining the 2 percent target until 2016, under the agreement made with his Liberal Democrat coalition partners.
According to a new report produced by RUSI, the UK's defense budget is set to fall to 1.88 percent of Gross Domestic Product between 2015-16, based on the think tank's independent estimates.
Professor Malcolm Chalmers, who wrote the report, also said he "could see defense spending falling further, to between 1.5% and 1.6% of GDP in 2020/21" if the government planned larger spending cuts after next year's general election.
The Ministry of Defence has not confirmed whether any more cuts to British armed forces would be made.
Earlier this week, both UK Prime Minister David Cameron and US President Barack Obama encouraged NATO countries to increase their military spending, citing perceived threats from both Russia and the Islamic State (IS, formerly ISIS), the militant Islamist group currently operating in parts of Iraq and Syria.
In a joint article in The Times, the leaders said that greater military presence would send a "powerful message to those that threaten us that our collective resolve is as strong as ever."
Military officials have also criticized European countries for not pulling their weight to uphold the military alliance, saying that a lack of co-ordinated spending would result in it becoming a "broken force."
"The sad fact is that with the exception of a small number of European NATO member states — which include the UK and France principally — the vast majority of the armed forces of other European states lack real usable capability and their governments often lack the political will to fund their armed forces properly," former Army Chief Sir Richard Dannatt told The Week magazine.
Alongside increasing military spending, NATO leaders are expected on Friday to back plans that position more troops and military equipment in Eastern Europe, as well as establishing a 'rapid response force' aimed to counter what they characterize as Russian aggression.
The announcement comes as Russian and Ukrainian officials meet in Belarus to negotiate a new ceasefire deal and plans for future peace in the region.