11 Syrian & 2 Afghan migrant children found hiding in Dover tanker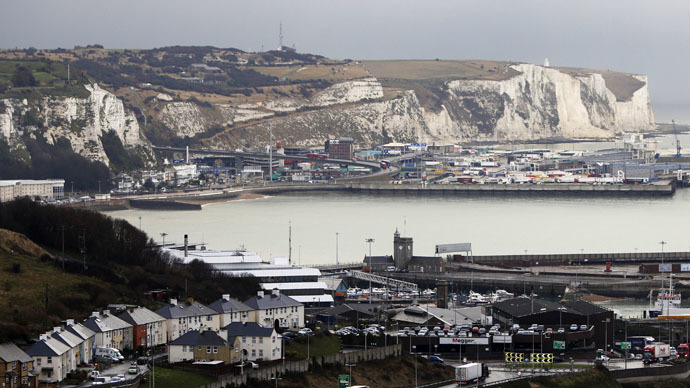 Thirteen migrants were found in a tanker filled with plastic granules at the port of Dover in Kent on Tuesday.
The vehicle was searched at Dover's Eastern Docks, according to the Home Office. The migrants – 11 from Syria and two from Afghanistan – are believed to be unaccompanied minors.
They were taken into care following interviews with Kent social services to assess their ages. The Home Office said all of the group were fit and well.
More than 3,000 people have signed an e-petition demanding the UK government help solve the problems faced by British truckers.
They want to see the abolition of fines of up to £2,000 per migrant that can be imposed on truck drivers and haulers if stowaways are caught hiding in their vehicles.
The Freight Transport Association has urged the European Union to impose stricter border controls to deal with the "worsening situation."
Last month, British citizens and tourists were warned that migrants could sneak into their vehicles in Calais bound for the UK. More than 2,500 migrants are believed to be in the French port, trying to find a way across the Channel to Britain.
The majority of refugees to the UK come from war-torn regions of the world, including Syria, Afghanistan and Iraq. Seeking refuge and shelter from war, many see the UK as a safe haven, with a stable economy and strong tradition of tolerance toward refugees.
Hundreds of thousands of Syrians have fled the civil war and the advance of the Islamist militant group Islamic State. Since March 2011, when the civil war began, 202,354 people have died in Syria, according to the monitoring group Syrian Observatory for Human Rights.
Of those who have died, 63,074 of the killed were civilians, including 10,377 children.
READ MORE:UK Home Secretary 'wrong' to blame EU migrants for immigration surge
"We work closely with the police to tackle illegal immigration and continue to strengthen the security of our border to stop those who have no right to enter the UK," a Home Office spokesman said.
"If people have a genuine need of protection they should claim asylum in the first safe country they reach.
"If they are just seeking to evade immigration control, they need to know that they are risking their lives and that they will get caught.
"The new Immigration Act makes it harder for people to live in the UK illegally. It makes it harder for illegal immigrants to abuse our benefits and public services, and makes it easier for us to remove them by reducing the number of appeals."
In September, 24 illegal immigrants were found gasping for air in the back of refrigerated lorry minutes after it arrived in Dover.
A mechanic reportedly forced open a refrigerated yogurt truck to free the suspected illegal immigrants, who were all Eritreans. The immigrants are thought to have been concealed in the trailer for hours before their release.