Anti-austerity protesters besiege Downing St over 'disastrous' economic policies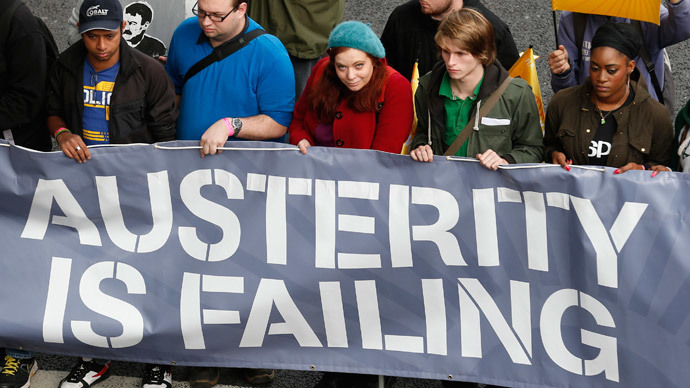 Crowds will descend upon Downing Street on Tuesday night to protest against punishing economic policies that experts warn are disastrous for Britain. Activists assembled in Westminster will call for Chancellor George Osborne's resignation.
Hundreds of protesters are expected to gather in Osborne masks outside No 10 and No 11 Downing Street at 5:30pm Tuesday in an effort to highlight the Chancellor's culpability for spiralling inequality, plummeting standards of living, the pushing of millions of workers deeper into poverty, and an ever-growing deficit.
The protest, organized by anti-austerity collective The People's Assembly, will be accompanied by similar demonstrations in Norfolk and Fife, Scotland.
Anti-austerity protest currently taking place at downing street #ldn#austerityfailpic.twitter.com/hRrMtB1SGU

— James Cropper (@JamesCropper95) December 2, 2014
The People's Assembly is a self-declared non-political campaign group working to unite those opposed to austerity policies in an effort to battle for fairer alternatives.
The movement, which consists of economists, academics and activists, rejects reactionary rhetoric peddled by austerity advocates and places the blame for Britain's recent economic crisis on the shoulders of banks, big business and myopic government policies.
Britain's blurred economic reality
In the run-up to Osborne's Autumn Statement, the group has sought to debunk a series of myths it warns are blurring Britain's troubling economic reality.
While the government suggests current economic policies are creating employment and prosperity for the many, the campaign group warns that the majority of UK residents have experienced the most serious decline in basic living standards since records first began in 1856.
The movement also challenges the notion that Britain's economy is stronger than many other large economies, arguing the vast majority of developed nations have grown more rapidly since 2010.
It also strongly challenges the coalition government's claim that austerity has been successful, warning that the nation's budget deficit has ballooned 10 percent over the past 12 months to £100 billion.
The People's Assembly is backed by former Citibank economist and anti-austerity campaigner Michael Burke, who warned last week in an article published in the Morning Star that the coalition's "claimed successes" are utterly divorced from Britain's economic reality.
Reflecting on economic policies implemented by Osborne during his chancellorship, Burke said the government's post-crisis economic path has been a "disaster."
Prof John Weeks on austerity: Pain, No Gain: the Austerity Scam. #austerityfailhttp://t.co/hruyzyf55E

— Ann Pettifor (@AnnPettifor) December 2, 2014
Contrary to the coalition's claims of a strong recovery, Burke argued the Office of National Statistics (ONS) has confirmed Britain's economic recovery is the "weakest" on record since 1948.
Strangulating austerity policies, which surfaced as the coalition government came to power in 2010 and have remained steadfast since, almost caused "a double-dip recession," Burke said.
If inflation is considered, "real wages" in Britain have plummeted for the most protracted period "since the Victorian era," he added.
We can't go back to Victorian times, Dickens' Hard Times! #CameronMustGo#AusterityFailhttp://t.co/IKEHQYa9Wfpic.twitter.com/liMZwVR2EG

— People's Assembly (@pplsassembly) November 29, 2014
"In the face of the weakest recovery on record and the biggest fall in living standards, how is it even possible for Osborne and co to talk of a strong recovery?" Burke wrote.
Soaring inequality
The growing numbers of people facing dire economic hardship in the UK includes the young, the old, the disabled, the sick and countless workers forced to live on poverty-level wages. Yet since the financial crisis, the number of billionaires in Britain has doubled.
The UK is the only G7 country where inequality has grown since the start of the 21st century – at time when more than 1.5 million British pensioners are estimated to be floundering on low incomes and consigned to poverty.
Over 90,000 children in England, Scotland, and Wales are living in temporary accommodation. And as poverty and homelessness remain rife, critics warn the welfare state is being dismantled on the coalition government's watch.
Burke suggests it's unacceptable that the root causes of Britain's recent recession remain unaddressed by Osborne, while ordinary workers continue to bear the brunt of the crisis.
#AusterityFail Join the protest Tues 2 Dec, 5:30, Downing Street https://t.co/n7LvZsUzabpic.twitter.com/DzSdYAi95e

— People's Assembly (@pplsassembly) December 1, 2014
"Rather than banks and the rapacious firms such as Ineos being held responsible for the crisis [by the government], it is the public sector, public-sector workers or anyone who takes action for better pay and conditions who are demonized," Burke said.
As crowds take to the streets to protest against soaring inequality and prevailing austerity policies in Britain, Osborne will make preparations for the announcement of his Autumn Statement on Wednesday.
A nationwide chain of protests organized by The People's Assembly will coincide with the Chancellor's statement. Some 26 anti-austerity demonstrations in total are expected to occur in universities, towns and cities across the nation on December 3.
@pplsassembly busting austerity myths #austerityfailpic.twitter.com/JR9P43ifgz

— Jan McLachlan (@JanMcLachlan) December 2, 2014