'Control': Cameron outlines EU migrant benefit caps
David Cameron has announced new government measures to curb levels of UK immigration. In a speech on Friday, the prime minister said all new EU migrants must work for a minimum of four years in the country before being able to claim state benefits.
Other measures include banning immigrants' access to social housing until they have worked for four years, and restricting the rights of migrants to bring family members into the country.
Cameron said if he faces problems implementing the changes, he is willing to exit the EU.
The speech is an attempt to restore the PM's tattered reputation on the immigration issue, after the latest Office for National Statistics (ONS) figures showed the UK had missed Cameron's pre-election immigration target of 100,000.
Figures released by the ONS revealed net immigration increased by 78,000 in the year running up to June, with the total immigration figure at 260,000 - more than twice Cameron's promised cap.
The proposals laid out in his speech will affect more than 300,000 EU migrants working in the UK and claiming tax credits, and is reportedly aimed at the lower-skilled migrant labor market.
Cameron promised to "negotiate a cut to EU migration and make welfare reform an absolute requirement in renegotiation."
He was previously quoted saying he believed the UK must tackle the immigration issue with a "red line," but has not in this speech requested an emergency brake, which would allow the UK to assume the power to block all immigration.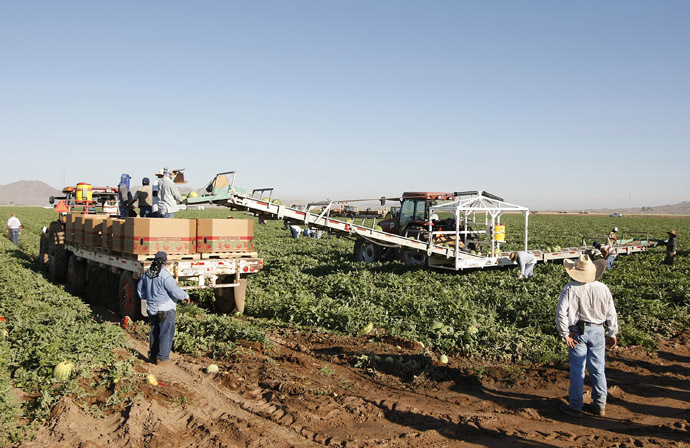 Cameron said he hopes the plans will "keep the country in a reformed EU," but added "if our concerns fall on deafears" leaving the EU was an option.
"I am confident that, with goodwill and understanding, we can and will succeed," he added.
The PM's maxim for these new measures was one word: "control."
"People want government to have control over the numbers of people coming here and the circumstances in which they come, both from around the world and from within the European Union … And yet in recent years, it has become clear that successive governments have lacked control," he said.
"People want grip. I get that … They don't want limitless immigration and they don't want no [sic] immigration. They want controlled immigration. And they are right."
The latest measures have been heralded as the toughest immigration welfare system in Europe by Conservative MPs.
Further to the stringent housing and benefit measures, EU migrants will no longer get child benefits and tax credits for children living elsewhere in Europe, nor will EU job seekers be supported by the welfare system. They will be deported if they can't find work within six months.
"My objective is simple: to make our immigration system fairer and reduce the current exceptionally high level of migration from within the EU into the UK," Cameron said.
German Chancellor Angela Merkel previously condemned Cameron's attitude towards immigration, saying the EU principle of free movement is "non-negotiable."
In the wake of the missed immigration targets, the prime pinister has faced a backlash from other party leaders.
UKIP leader Nigel Farage called the latest figures a "total failure" by Cameron, saying his proposed cap "had never been a genuine pledge."
Ed Miliband said the PM's actions were a series of broken promises.
"He promised to get migration down, and it's gone up. We're not going to make promises we can't keep."
You can share this story on social media: