Top chop: Tandoori lamb cutlet on intrepid space voyage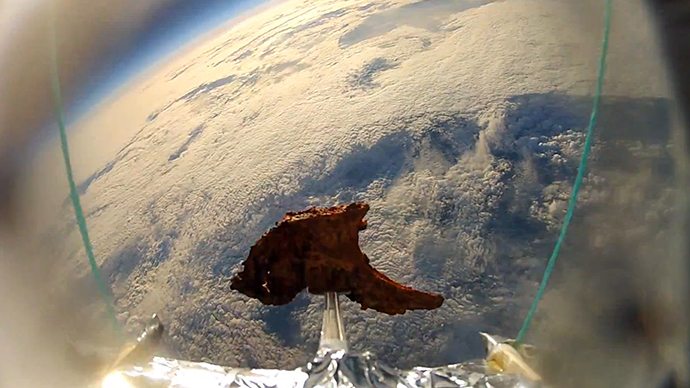 Novelist Nikesh Shukla has become the first man to launch a lamb chop 82,000 ft (25,000 meters) into the atmosphere. The daring culinary feat was part of a publicity drive for Shukla's second book, appropriately named Meatspace.
Shukla and graphic artists Nick Hearne teamed up to transport the tandoori-cooked chop 119 miles from a Punjabi restaurant in East London to the Cotswolds, where it was attached to a helium balloon and launched to the edge of space.
The GPS, camera, chop and balloon reached its incredible ascent to the outer stratosphere before the balloon exploded.
The makers of the film recovered the wreckage of the balloon and footage from the camera at a bucolic farm in Dorset where it was stuck inside a threshing machine.
Grub Street reported: "Other than the grilled protagonist … no livestock was injured in the making of this video."