Halloween Horror: More Brits believe in ghosts than God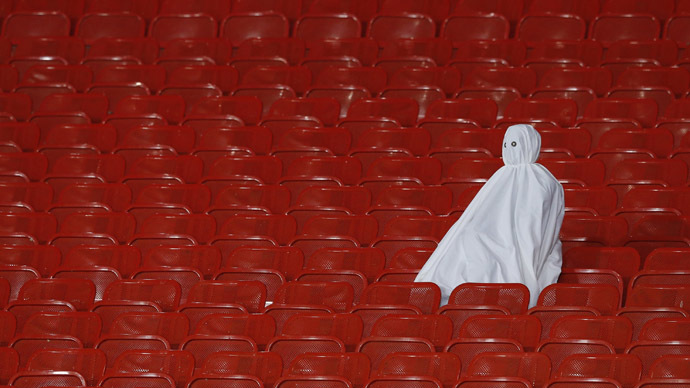 Twice as many people believe in the existence of ghosts than in God, a study has shown. The survey by Ripley's Believe It or Not! found 55 percent of adults think ghosts are real, compared with 25 percent who place their faith in the Almighty.
Coming in at a close second, 51 percent of participants believe aliens exist, with both the existence of UFOs and angels scoring ahead of God.
General Manager for Ripley's Believe It or Not! Natascha Crump said "we live in the age of science and turn to it for most of our answers, but the results show that many of us still hold belief in things that might exist outside of our world and beyond our understanding."
#OrangeRoom Out of millions of ghost sightings, only 1 needs to be real for ghosts to exist. So yes, I believe in spirits.

— Jennifer Nolan (@Jennifernolan22) October 29, 2014
The survey, which took results from 1,500 adults and 500 children, further revealed that children were far more likely to believe in the existence of both God and supernatural beings.
Just so everyone knows, no Cannock Chase residents have ever said the black eyed child looked ghostly. It has always appeared solid

— Lee Brickley (@lee_brickley) October 26, 2014
It was found that 64 percent of children believe in the existence of both aliens and ghosts, and a further 33 percent believed in God. Children were also more likely to believe in fantastical explanations for supernatural beings, with one in 20 claiming they personally knew an alien.
Some 26 percent of children also believed that aliens were roaming the earth disguised as humans.
The findings come as the UK faces a mass decline in churchgoing and Christianity.
Based on the results of the 2011 census, published in 2013, it was shown that the total number of people in England and Wales who describe themselves as Christian fell by 1.4 million, a drop of 10 percent.
ur kinda cool its jus 2 bad u dnt care about alien/government conspiracy theories as passionately as i need u to in order 4 this to work

— shan (@gothvibe) October 17, 2014
Popular belief in the paranormal has enjoyed a recent surge after sightings of the so-called "black eyed child" flooded UK media in September this year.
The paranormal child, who reportedly has "coal-black" eyes, resurfaced in September, reigniting internet-based mass hysteria.
"According to the [poll] results, it's clearly not just children who have an open mind when it comes to other life forms and keeping an open mind," Crump added.
You can share this story on social media: