14 injured in gas explosion at London Hyatt Churchill hotel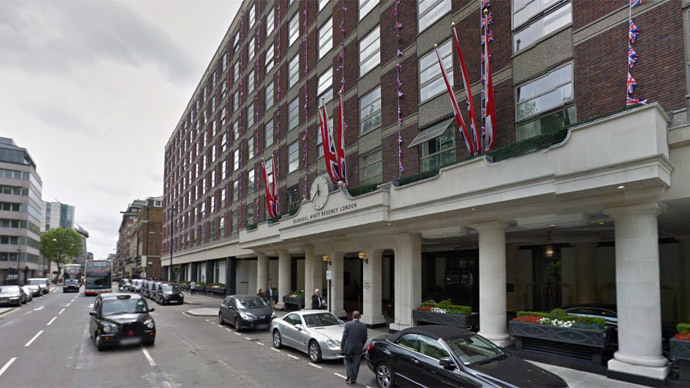 A suspected gas explosion has shaken the Hyatt Regency Churchill hotel in London. The guests have been evacuated with at least fourteen people suffering injuries. Five people were taken to hospital.
The explosion reportedly rocked the basement of the building in the area of the hotel's kitchen shortly before midnight Friday. "There was a gas explosion in the kitchen area of the hotel," a Scotland Yard spokesman told The Telegraph, adding that there was a "small number" of injured.
London Ambulance confirmed that 12 people were injured, but later revised the figure to 14.None of the injuries were life threatening, but 5 people were taken to hospital while the rest were treated at the scene.
Current scene at @HyattChurchill following explosion pic.twitter.com/M9DjVmVFIH

— Markus Granlund (@mkgranlund) November 22, 2014
Felt entire building shake (even on 8th floor) no power evacuated in complete darkness even fire escapes dark! Thx for iphone torch

— David Vaughan (@davidjvaughan) November 22, 2014
Police and fire brigades were deployed to the scene with a total of around 100 emergency personnel responding the distress. The area around the hotel was closed off with police reportedly treating it as a crime scene.
Area around #Churchillhotel has been closed off. Police reportedly treat it as crime scene http://t.co/h0yfIFMXb0pic.twitter.com/7FXlGa6l95

— RT (@RT_com) November 22, 2014
The hotel guests were evacuated and gathered in another hotel next door as gas engineers were making sure the site of the incident was safe for people to return.
#UK latest: reported gas explosion at london's hotel hyatt churchill Photo via @essa_alabdulla: pic.twitter.com/BzpOtgVJmI

— José Miguel Sardo (@jmsardo) November 22, 2014
The hotel management is "currently investigating further into the situation and working with the emergency response team," Hyatt Churchill said in its official Twitter account.
Massive #explosion in @hyattchurchill hotel complete dark guests evacuated lots police ambulance fire service activity

— David Vaughan (@davidjvaughan) November 22, 2014
Explosion at the Churchill hotel #churchillhotel@BBCBreakingpic.twitter.com/XOBvp7AOB7

— Tony Levine (@AKHL08) November 22, 2014