London student protests turn violent, arrests made (PHOTOS, VIDEO)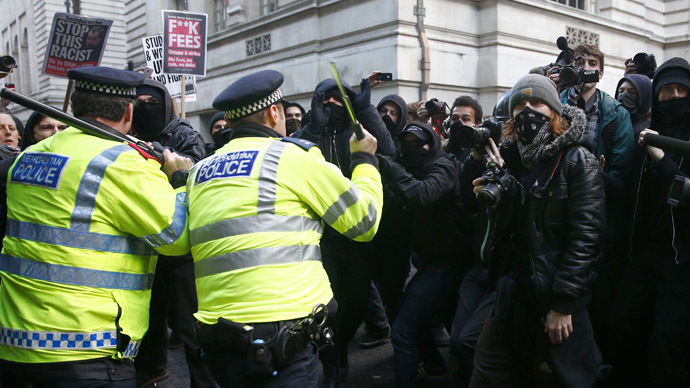 Police and protesters have clashed during the UK's largest student demonstration for four years. It is not yet clear how many arrests have been made.
The protest, initially a campaign for free university education after the coalition government raised tuition fees, was joined by anarchists who clashed with police after they attempted to stop them entering Parliament Square.
LIVE UPDATES:#FreeEducation: Students march against tuition fees & cuts in London
Watch students and police clash during London demo against tuition fees http://t.co/19beWwvJST#FreeEducation

— Ruptly (@Ruptly) November 19, 2014
Prior to the scuffle the demonstration had remained peaceful, with over 5,000 students from 40 cities marching through central London.
The clashes took place after demonstrators refused to obey police orders to "stand back". Masked dissidents struggled against police and climbed over temporary fencing, eventually causing it to collapse.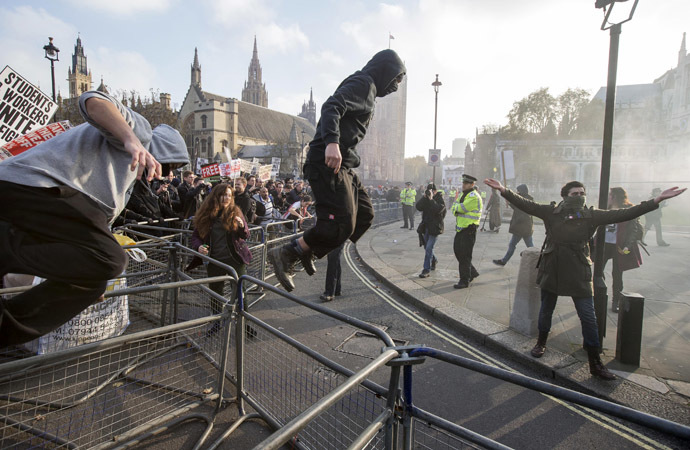 Further violence and at least one arrest took place after a splinter group marched to Victoria, where police pinned one protester to the ground, and one officer was injured.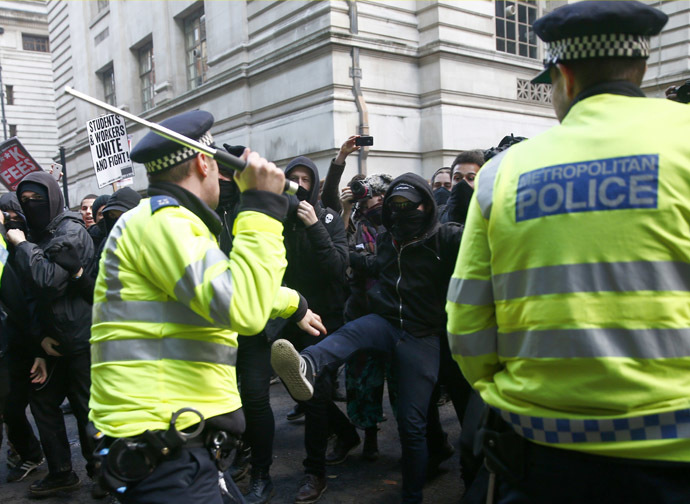 Matthew Taylor reported to the Guardian: "It happened in a pedestrianized area just near Victoria Station at about 3.30pm. A man in his 20s – who protesters told the Guardian was a Kurdish student – was forcibly bundled to the ground. He did not appear to be posing any great threat at the time of the arrest.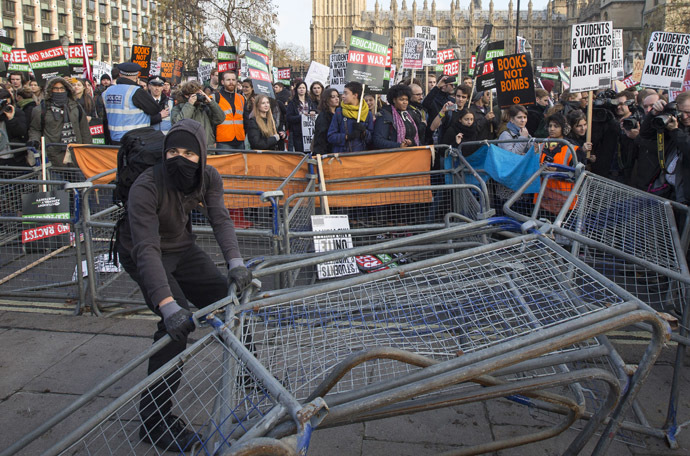 "It was one of several violent arrests carried out by Territorial Support Group police officers as the breakaway demonstration snaked its way through the backstreets around Victoria station.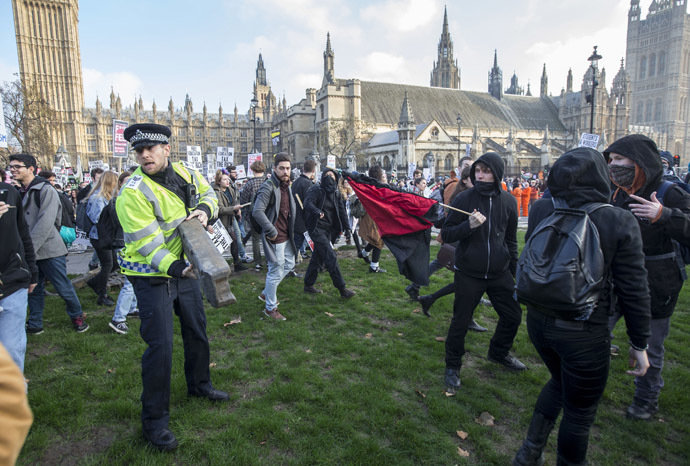 "A crowd of around 100 protesters surrounded the police as the man was pinned to the floor, with some minor scuffles breaking out. The man has now been put in a police van and the crowd largely disbursed."
The man is apparently a Turkish Kurd studying history, politics and economics at Birkbeck University.
A friend, who wished to remain nameless, said "He was just walking outside John Lewis and they attacked him."
"He hadn't done anything at all – we are all just here to protest. It was really violent, he looked like he was unconscious for a while," said another.
The friends say they hope footage of the event will stop the man being prosecuted. "The police said he is going to be charged with assaulting an officer but I just hope someone caught what happened on camera."
More violent arrests of protesters at Parliament Square have been reported.