3 in 4 UK students will be repaying loans into their 50s – study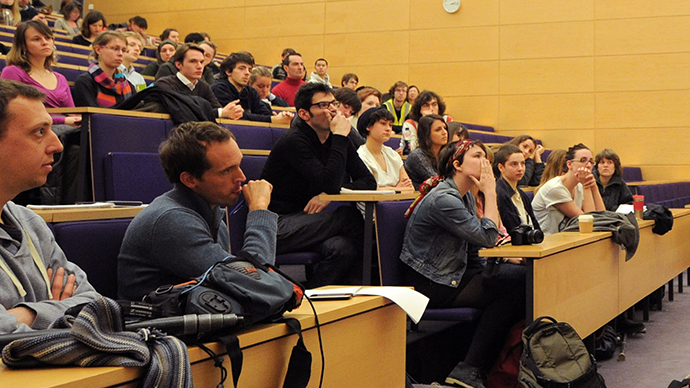 Three out of four of today's UK university graduates will be paying back their student loans well into their 50s, owing an average amount of £44,000 ($74,000), a study published Thursday reveals.
A report conducted by the Institute of Fiscal Studies (IFS) for the education charity the Sutton Trust found that today's students are leaving university crippled with huge debts averaging £44,000 ($74,000). This is double the amount before the new £9,000 ($15,100) tuition fees cap came into force after 2010.
The hike in tuition fees, which were already unpopular, led to mass protests across the country, which in London turned into rioting and saw two policemen seriously injured.
The study found that 73 percent of students will be unable to clear their debts, and many will only have managed to write them off 30 years after graduation.
An individual student will have had to repay an average of £35,446 ($59,400) by the time they've cleared their debts, when many by that time have to fund their own children's education. Only a tiny 5 percent of the highest earners will manage to pay back their debts by the time they are 40.
The report comes just after the Department for Business Innovation and Skills admitted that 45 percent of student debts will never be repaid.
Last week Sir David Bell, Vice-Chancellor of Reading University and a former permanent secretary at the Department for Education, said that a second government inquiry was needed into student finance in the UK and may be set up after the 2015 general election.
It was the Browne inquiry of 2010 which convinced the government to remove a cap on tuition fees at £3,200 ($5,360) per year and hiked to almost triple the amount at £9,000 ($15,100). Browne cited poor funding for universities as the motive for recommending the increase.
The Sutton Trust study found that under the new post Browne system it was middle and higher earners that would be hardest hit. Students do not have to start repaying their loans until they earn more than £21,000 ($35,200) a year, compared to £15,000 ($25,149) under the old system.
Whereas a typical teacher would still owe around £37,000 ($62,000) at the age of 40 and would be repaying £1,700 ($2,849) to £2,500 ($4,190) through their 40s and 50s, when they are struggling to support their own kids and to pay off a mortgage.
"The new HE finance system will leave graduates with much more debt than before. Yet even with this extra charge on middle earners, there is an increasing likelihood that the government will end up failing to recoup most of its loans," Claire Crawford, of the IFS and the University of Warwick who was co-author of the report, told the Independent.
The idea of hammering middle income earners is as unlikely to yield substantial repayments as it is unfair, explained Conor Ryan, director of research at the Sutton Trust.
"It seems middle income earners pay back a lot more but the Exchequer gains little in return. We believe that the government needs to look again at fees, loans and teaching grants to get a fairer balance," he said.
Toni Pearce, from the National Union of Students, said that making students fork over huge amounts for their education was not the answer.
"Forcing debt on to students as a way of funding universities is an experiment that has failed our country," she told the Independent.
The report also notes that the gap in applications between advantaged and disadvantaged young people attending university has fallen, but that it is still students from richer families who are more likely to gain places at the best universities.
Meanwhile the study found that the number of language students in the UK is continuing to drop, with a 22 percent decline in places awarded between the 2010-11 and 2012-13 academic years. The business community in the UK says they are in significant need of more young professionals who can speak foreign languages.
However, the devolved Scottish parliament, which controls all issues concerning education north of the border, has abolished all tuition fees, resulting in a large benefit for Scottish students compared to their English counterparts.
You can share this story on social media: