UK student loans system near collapse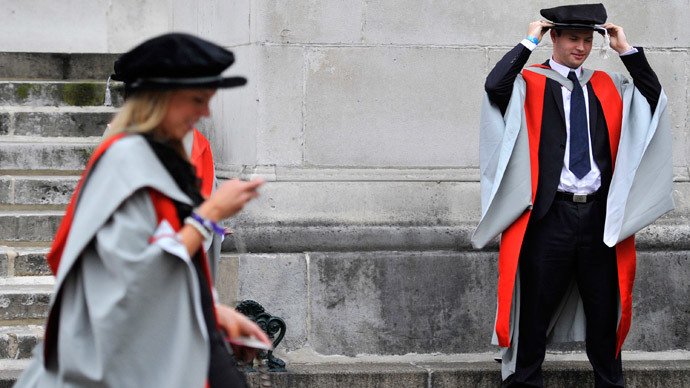 Inaccurate debt forecasting and a failure to collect student loans threaten the financial collapse of the UK's student loans system; claim a group of MPs in a damning report.
The Business, Innovation and Skills Committee called for an urgent review of the system, saying the Chancellor's removal of the cap on student numbers may result in a multi-billion pound budget gap.
Under the current student loan system for students residing in England, the Government loses around 45p on every £1 it loans out. Yet the Committee found the Department of Business, Innovation and Skills (BIS) frequently miscalculates these figures, resulting in a £111m loss in 2011-12.
"The Government's estimates indicate the size of outstanding student debt will increase to more than £330bn by 2044," said Adrian Bailey MP, Chair of the BIS Committee.
"With the prospect of a large potential black hole in the government's budget figures, Government need to get its act together and properly calculate how much of these student debts are ever likely to be paid back," he added.
The Committee found "a lack of rigor" in the collection of student debt. It argued that graduates working abroad find it too easy to avoid making payments, and that collection targets set for the Student Loan Company (SLC) by the Department are "not fit for purpose."
While removing the student numbers cap is seen as a worthy aspiration to allow poorer students with academic merit access to higher education, linking this policy to sales of income-contingent student loans could result in a bigger burden on the taxpayer, argued the committee.
"The financial funding system for higher education is looking increasingly fragile, coming under the strain of unfunded commitments and poor debt collection," Bailey added.
The University and College Union (UCU) says the time has come for the government to seriously reconsider the current system of tuition fee loans. Reacting to the report, the union said the current system has a negative impact on universities and their staff.
"It is quite clear to us that the system is unsustainable, costly for students and bad value for the taxpayer," UCU general secretary Sally Hunt said.
"While the financial viability of the loans system remains in doubt, it is difficult for universities to plan ahead with confidence. This obviously has a knock-on effect on the job security of staff, not to mention the financial security of students. This report is yet more proof that the time has come for an urgent and radical overhaul of student finance," Hunt added.