#FreeEducation: Students march against tuition fees & cuts in London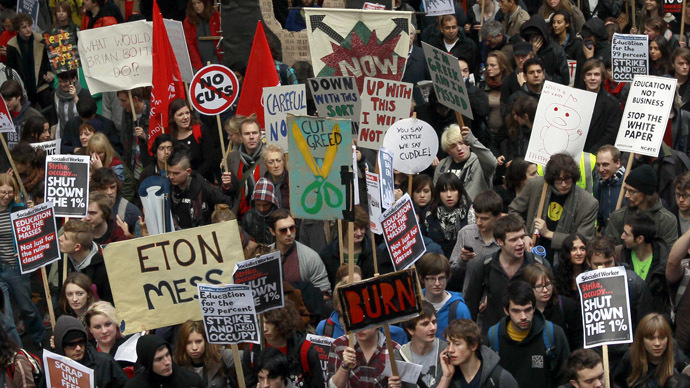 Thousands of students are marching on the UK parliament on Wednesday in the biggest student action in four years. The protest, called by the National Campaign Against Fees & Cuts, is demanding an end to budget cuts and to restore free education.
Contingents of students have arrived in the capital from at least 40 UK towns and cities. Further nationwide days of action have been announced throughout December.
19 November 2014

18:53 GMT

Four arrests have been confirmed—two protesters have been charged with assaulting police, and two others with affray, a public order offense.

17:02 GMT

RT footage from the first scuffle of the day.

17:00 GMT

UKIP have proclaimed their support for the #FreeEducation. The NCAFC have not responded positively.

UKIP appear to have put out a statement in support of #freeeducation. To be clear: we don't want your support, or any racists' support.

— Against Fees & Cuts (@NCAFC_UK) November 19, 2014

16:57 GMT

BREAKING: Protester arrested and taken into police van. Police continue be berated by protesters.

16:56 GMT

BREAKING: police are pinning a protester to a riot van. Tension is rising again in Parliament Square.

16:50 GMT

Protest is moving away from the palace, back towards parliament.

RT spoke to a demonstrator earlier about his motives for protesting:

16:45 GMT

"What do we want? Free Education! When do we want it? Now!"

A peaceful protest continues outside the palace.

16:35 GMT

Protesters have regrouped outside Buckingham Palace, where they are continuing to chant.

16:06 GMT

The protesters in Parliament Square appear to be confused as to the route of the march. They are debating further measures.

16:00 GMT

The march is heading back towards Parliament Square. The atmosphere appears more peaceful.