Synagogue killing of UK rabbi, Baroness Warsi's comments cause Twitter storm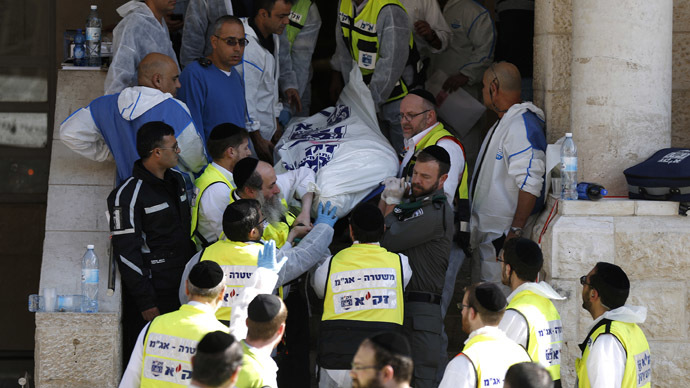 The deadliest attack in Jerusalem for six years has sparked a fierce debate over the age-old Israel-Palestine conflict. On Tuesday, two Palestinians killed four rabbis, including a British national, and a policeman in West Jerusalem.
Liverpool-born Rabbi Avraham Goldberg, 68, was one of the victims of the gun and meat cleaver attack. He was among hundreds of worshippers praying at the Kehilat Bnei Torah synagogue on Tuesday.
The attackers, Palestinians from East Jerusalem, Ghassam Abu Jamal, 32, and his cousin, Uday Abu Jamal, 22, were killed in a shootout with police minutes after the attack. Goldberg was buried at a mass funeral on Tuesday.
"He was a well-loved and fine man who was known in this neighborhood," said one man, who asked to remain anonymous.
The synagogue has now reopened just one day after the city's deadliest mass killing for years.
The attacks are linked to the increasing presence of right-wing Israelis at the Al-Aqsa mosque, the third holiest site in Islam.
The mosque stands on the Temple Mount site, which is sacred in Judaism. Goldberg apparently shared this view.
READ MORE: 3 US & 1 UK rabbis killed, 7 injured in attack at Jerusalem synagogue
"He would not have been in favor of that, none of these people would," British-born mourner Yoel, 45, told The Telegraph. "According to the religion, Jews aren't allowed to go to the Temple Mount unless they are pure and Jews in this age aren't able to be pure.
"But the people who committed these murders are barbarians. To kill someone while they are praying and who isn't doing anything to you [...] they don't deserve to live in this world."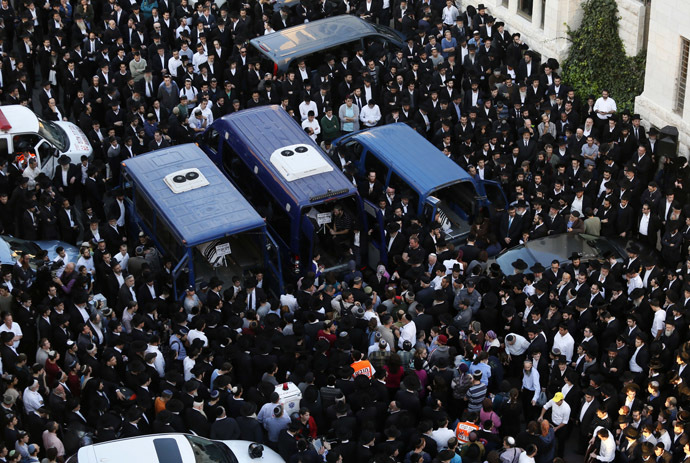 The attack has triggered a fierce war of words on Twitter. In response to the attack, former UK foreign office minister Sayeeda Warsi published a series of tweets.
In one, Warsi, a Muslim of Pakistani origin, compared the violence and protests at the Al-Aqsa mosque with Tuesday's attack at the synagogue.
Israeli extremists storm Al Aqsa & intimidate worshippers Palestinian extremists storm synagogue & kill 4 worshippers #Tragic#peacenotwar

— Sayeeda Warsi (@SayeedaWarsi) November 18, 2014
The British-based Israel lobbying group Zionist Federation quickly condemned her tweets as "disgusting."
. @ZionistFed both Palestinian & Israeli lives have been lost in recent weeks at the hands of extremists,condemn both #Peace not #Hypocrisy

— Sayeeda Warsi (@SayeedaWarsi) November 18, 2014
In the messages, Warsi called on UK Prime Minister David Cameron and Opposition leader Ed Miliband to condemn all violence in Israel and the occupied Palestinian territories.
Both @David_Cameron & @Ed_Miliband say a Palestinian life is equal to an Israeli life so let's ALL condemn the killing on BOTH sides

— Sayeeda Warsi (@SayeedaWarsi) November 18, 2014
A Twitter war of words erupted following her tweets. Her former government colleague, Conservative Party chairman Grant Shapps, quickly reacted to her tweets, which some claimed appeared to somewhat justify the terror attack. He said Warsi only speaks for herself.
To be clear @SayeedaWarsi speaks for herself, not the party. Our prayers are w/ families of those murdered. No justification for terrorism.

— Grant Shapps MP (@grantshapps) November 18, 2014
Baroness Warsi resigned from the UK government in August over the administration's policy on the crisis in Gaza, calling it "morally indefensible."
Beyond belief that @SayeedaWarsi as Peer of the Realm and former @foreignoffice Minister makes up false incident to justify terror attack.

— Israel Solidarity (@ZionismUK) November 18, 2014
Jeremy Newmark, the former chief at the UK's Jewish Leadership Council, also took to Twitter to criticize her tweets.
Shocked to see Baroness Warsi's warped tweet attempting to justify Jerusalem terror attacks...

— Jeremy Newmark (@Jeremy_Newmark) November 18, 2014
A spokesman for the Israeli embassy said: "[Baroness] Warsi's unfortunate remarks, equating Jews visiting a holy site with terrorists murdering praying worshippers, are morally reprehensible and shameful," the Jewish Chronicle reported.
Meanwhile, Friends of Al-Aqsa, a UK-based NGO defending the human rights of Palestinians, has launched a campaign criticizing the BBC over its alleged bias covering conflicts between Israel and Palestine.
The group argues that the BBC's coverage of the synagogue attacks is bias and accuses the broadcaster of playing down Palestinian deaths.
It claims when Israeli deaths are involved, the story gets heavy coverage with analysis, photo blogs and a live blog with constant updates.
"In contrast, recent reports on Palestinian victims of Israeli violence were muted," the NGO said. It criticized a lack of coverage of Palestinian deaths and said the broadcaster didn't pursue a story of police brutality towards a Palestinian national, Khayr al-Din Hamdan.
In another story, "Palestinian bus driver, Hassan Yousef Al Ramouni, believed to have been lynched by Israeli settlers had not been mentioned at all by the BBC until the attack on the synagogue, where it was mentioned only in reference to a Hamas statement on the synagogue attack."
You can share this story on social media: