Israel's plan to build 600 new homes in E. Jerusalem earns UN's anger
UN Secretary-General Ban Ki-moon has expressed his frustration at Israel's settlement program, which plans 600 new homes in East Jerusalem. The new units are set to expand four existing settlements in the Palestinian city.
"I once again strongly condemn the continued settlement activity by Israel," the UN chief told journalists after a meeting with Palestinian Prime Minister Rami Hamdallah in Ramallah.
The Israeli government also plans to seize one square kilometer of farmland near Bethlehem, "intended for the construction of settlement units, parks, a synagogue and agricultural roads," according to a report by the Palestinian news agency WAFA.
It is possible to appeal the seizure within a period of two months, in line with Israel's tax law. The new construction plans come shortly after last month's announcement of the most significant construction plan in the past several decades – the idea of building more than 2,500 homes in the area with a majority Arab population.
Like Ban, the EU has joined the international chorus of condemnation, strongly suggesting that such plans threaten to upset a very fragile peace with the Palestinians.
The UN chief also urged the two sides to return to the negotiating table.
"I urge Palestinians to show courage and continue engaging in the... peace process... [and] Israelis to do the same," Ban warned, adding, "Time is not on the side of peace. We need to act immediately to prevent a deepening of an already unsustainable status quo."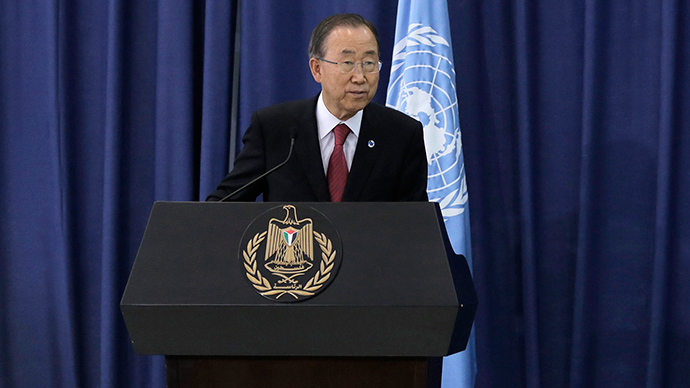 President Mahmoud Abbas has also recently warned the UN General Assembly that continuing the occupation would ensure that the Palestinian population would eventually turn into fragmented ghettos. He will be seeking a UN resolution and a "firm timetable" to stop the Israeli occupation.
READ MORE: Abbas demands Israelis stop occupation, ghettoization of Palestine
But the move also comes as the government admitted to a covert building freeze in the disputed area. Israeli media is alleging that Ban got the entire matter wrong and sees his comments as misdirected. They believe the UN head might have been referring to building tenders in a wholly Jewish neighborhood in the capital, leaving intact the building freeze.
According to Arutz Sheva daily, the decision was in fact the approval of building tenders at some future date in the Jewish neighborhood of Israel's capital, and leaves intact the building freeze gripping the area.
This summer's 50-day military conflict between Israel and the Occupied Palestinian Administration has caused immense damage and loss of life. Dubbed operation Protective Edge, it killed more than 2,200 people – the vast majority of them Palestinians, including hundreds of women and children.
Ban's visit to Ramallah comes on the heels of combined efforts by the US, EU, Turkey, Qatar, Germany and Kuwait to rebuild the Gaza Strip. So far they've raised $5.4 billion, smashing through the $4 billion target set by the Palestinian Authority.
You can share this story on social media: