'Shot in the heart': Israeli army kills 13yo Palestinian boy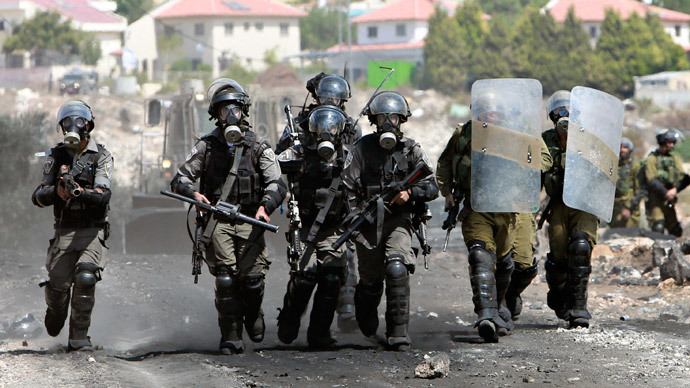 A Palestinian boy was shot in the chest point-blank and later died amid a confrontation between Israeli forces and stone-throwing youths in a village of the occupied West Bank, according to local media and medical sources.
READ MORE: UK MPs pass motion to recognize Palestine as a state
Bahaa Badr, 13, was fatally shot by the Israeli Defense Forces (IDF) as the troops made their way to Beit Liqya village in the West Bank, located near the border with Israel, Reuters reported citing medical sources and local residents.
Badr was shot from a close range into the heart area and died shortly after the impact, Palestinian Ma'an news agency quoted another source as saying.
Upon entering the village, Israeli troops were met by Palestinian protesters who began throwing stones at them. It is still unclear whether the boy took part in the protest.
Israel has referred to the demonstration as an "illegal riot," saying that demonstrators threw Molotov cocktails at soldiers as they were leaving the village.
Family of 13 year old Baha Sameer Badr bid him farewell. (Photo By: Issam Rimawi) #Palestinepic.twitter.com/XqFSF8ZIhz

— Aiman (@AimanofArabia) October 16, 2014
In response, troops began shooting live ammunition rounds, according to an Israeli military spokesperson, who added that the incident will be investigated.
Tensions between Israelis and Palestinians have been running extremely high since the start of Israel's seven-week war in Gaza in July, which took the lives of more than 2,000 Palestinians – mostly civilians – and over 70 Israelis, mostly soldiers.
Back in April, US-mediated peace talks between Israel and the Palestinians broke down.
Meanwhile, British MPs made a historic step on Monday evening, as the British Parliament voted in favor of a symbolic move to recognize Palestine as an official state.
At the same time, the international community has condemned Israel's plans for further expansion into the occupied Palestinian territories. UN Secretary-General Ban Ki-moon has expressed frustration at Israel's settlement program, which is planning 600 new homes in East Jerusalem. The new units are set to expand four existing settlements in the Palestinian city.
"I once again strongly condemn the continued settlement activity by Israel," the UN chief told journalists after a meeting with Palestinian Prime Minister Rami Hamdallah in Ramallah on Monday.
The Israeli government also plans to seize one square kilometer of farmland near Bethlehem, which is "intended for the construction of settlement units, parks, a synagogue and agricultural roads," according to a report by the Palestinian news agency WAFA.
READ MORE: Israel's plan to build 600 new homes in E. Jerusalem earns UN's anger
You can share this story on social media: