50/50 chance of Britain leaving EU – former PM Major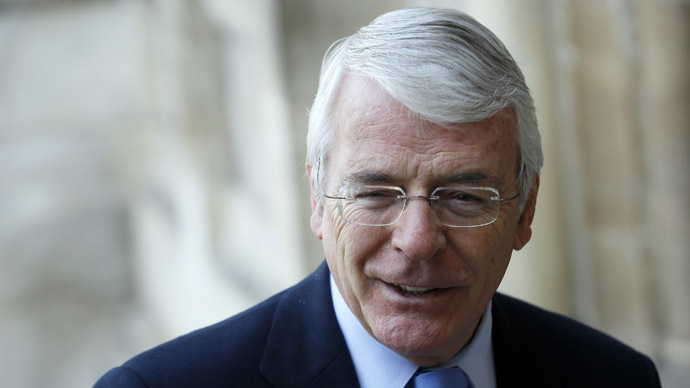 For the first time there is "a serious possibility" the UK could vote to leave the European Union unless Prime Minister David Cameron can achieve genuine reform, the former PM Sir John Major has said.
Sir John said there was a "very real risk of separation," which he currently put at 50 percent, but which could rise further. He warned that the UK leaving the EU would damage the future of Britain and Europe.
Support for an EU exit will be fuelled further if member states do not help the UK limit immigration, Major added.
"I put the chance of exit at just under 50 percent. But if the negotiations go badly, that percentage will rise. Conversely, with genuine reform, it will fall," he said, addressing German Chancellor Angela Merkel's Christian Democrat party in a speech in Berlin on Thursday.
"I ask our European partners to realize we are close to a breach that is in no one's interest. Britain's frustration is no game.
"It is not a political ploy to gain advantages and concessions from our partners. There is a very real risk of separation that could damage the future of the United Kingdom – and Europe as a whole."
While British governments have been willing to work with the EU on "the big issues," he said, "Our people deeply resent interference in the day-to-day activities that have been part of the British way of life for generations."
Major, who was prime minister between 1990 and 1997, warned that a lack of compromise and understanding for UK's stance among union members "can only inflame resentment if we are told our concerns are non-negotiable and we must toe the line."
Cameron wants to renegotiate the UK's membership of the EU and hold a referendum on whether the UK should exit the 28-member-bloc in 2017.
The PM is also discussing plans to potentially curb the rights of EU migrants to work in the UK and the freedom of movement across the union.
READ MORE:'Point of no return': Merkel warns UK could exit EU over immigration policy – report
People in Britain are not opposed to the idea freedom of movement, which allows people from EU countries to live in the UK, Sir John said. However, the high number of migrants coming to the UK could not be absorbed at the current speed.
"The sheer scale of the influx has put strains on our health, welfare, housing and education services that we struggle to meet – and has held down wages for many of the poorest members of our society," he said.
"John Major has today issued a stark warning to David Cameron to stop gambling with Britain's place in Europe and risk undermining Britain's national interest in the process," Shadow Foreign Secretary Douglas Alexander said.
"David Cameron has spent the last four years burning bridges in Europe instead of building alliances with other EU leaders.
"Now John Major has called on him to change course by focusing more on diplomacy and less on oratory.
"By putting his own party's interest ahead of our national interest, David Cameron is not only isolated in Europe, but also risks sleepwalking us out of Europe altogether."