Jobcentre staff to scare schoolchildren off 'a life on the dole'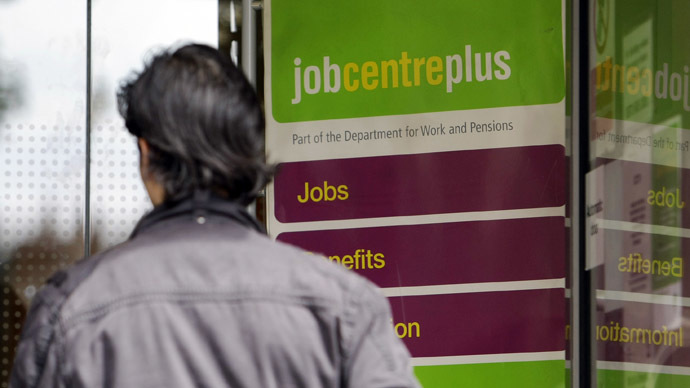 Jobcentre staff are to be used by the British government to deter schoolchildren as young as 14 from going on welfare benefits and living "a life on the dole."
Work and Pensions Secretary Iain Duncan Smith warns that too many children leaving school at 16 "bump around" doing low-paid work before falling into a "life on benefits," particularly if they are deemed "at risk" by their schools.
Speaking to the Daily Mail, Duncan Smith said that young people who are not working or seeking employment cost the UK taxpayer £56,000 over their working lives, and that Jobcentre staff are required to teach young people how to find jobs in the future.
"Restricting Jobcentre support until young people reach the age of 18 isn't good enough, because if you've got someone who leaves school at 16 they've got two years where they will bump around, maybe doing a bit of cash in hand work, probably not doing very much at all," he said.
"Then, when they arrive at the door of the Jobcentre, they have a 'wage scar' on their back which blights their prospects for decades to come," he added.
READ MORE:EU immigrants bring UK economy £20bn
READ MORE:UK under fire after shunning EU law on returning migrants' benefits
The plan comes after data published on Wednesday by the Office of National Statistics showed there are 489,258 people aged 16-24 who are unable to find work or training.
While youth unemployment has fallen, many young people have found themselves in low-paid work, or on volatile 'zero-hours contracts.'
Smith welcomed the intervention of Jobcentre staff, claiming they would provide solutions to employment on a local level.
"This should dramatically change their prospects. It is about social mobility, as well as about ensuring we give young people the best chance to get on in life," he said.
"And a future Conservative government would go even further – with every Jobcentre providing an adviser with a strong local knowledge of the labor market, employers, schools, colleges, and work experience opportunities."
He also floated new proposals, likely to appear in the Conservative Party's 2015 manifesto, in which 18-21 year olds would be given a smaller 'training allowance' for six months instead of a jobseeker's allowance (JSA).
The party would also force those without jobs and those not in training to undertake mandatory community service projects, such as cleaning parks or working in retail shops, in exchange for welfare payments.