UK govt to pour nearly £12 mn into France for immigration crackdown help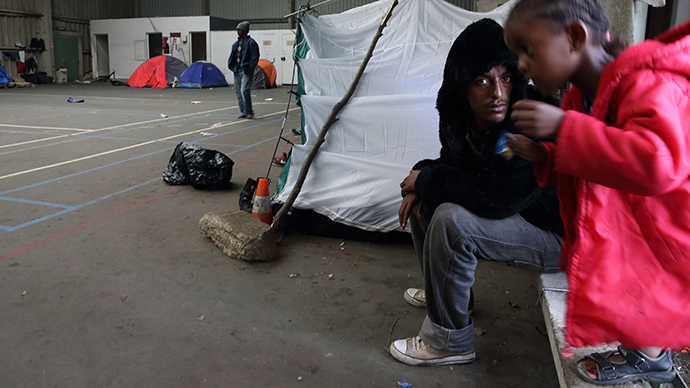 The UK government is set to provide France with some 12 million pounds ($20 million) to help tackle the problem of illegal immigrants attempting to gain entry into Britain by way of Calais.
The money is to be spent on improvements in border control and heightened security at the northern French port city, which has seen a surge in attempts at scaling gates.

Funding will take the form of a joint intervention fund. Britain will contribute £4 million ($6.4 million) every year for three years.
READ MORE: UK to send NATO fences from Wales to France to deter immigrants
New technology being channeled into the effort will target lorries which could be carrying migrants, as well as the implementation of stronger fences and higher security in the car park, according to the cooperation plan announced by UK Home Secretary Theresa May and her French counterpart, Bernard Cazeneuve.

Cazeneuve added that organized crime gangs would also be specifically targeted.

"This fund will finance moves to secure the port of Calais and protect the vulnerable," Cazeneuve said in a Saturday statement.

The number of people congregating in Calais has exploded over the past year. Some 1,500 illegal immigrants are currently estimated to be in the city.

The number has increased by approximately 50 percent in the past year, given several crises in both the Middle East and northern and eastern parts of Africa.
READ MORE: Send them to the UK: French port struggles to tackle immigration crisis
The issues surrounding immigration have contributed to increasing right-wing sentiments in both the UK and France.

Marine Le Pen's anti-immigration National Front party has witnessed a rise in local support, while it emerged in May that the UK Home Office was reportedly dolling out "secret" payments to embassies in order to expedite the removal of illegal migrants from Britain.

In September, Britain announced plans to erect a huge fence in the French port city of Calais. Dubbed the "Ring of Steel," the barrier – which measures more than 12 miles long and nine feet high – was previously used at a NATO summit in South Wales. It was first erected around Celtic Manor in Newport, as well as around summit venues in Cardiff. It was aimed at protecting dozens of world leaders and ministers from potential terrorist threats.