​Pricy pickle: London's iconic Gherkin sold to Brazilian billionaire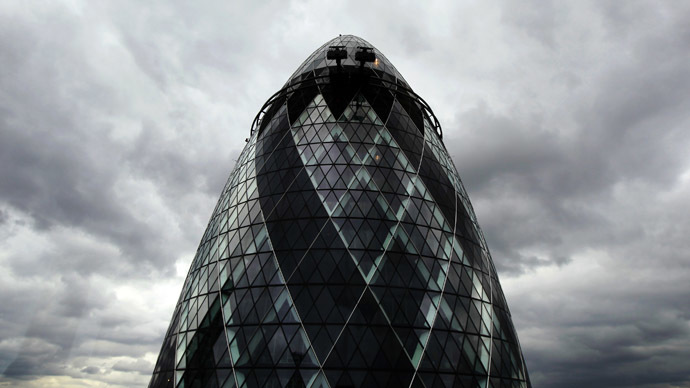 One of London tallest and most recognizable buildings, nicknamed the Gherkin, has been sold to Brazilian multi-billionaire Joseph Safra in a deal reportedly worth £726 million.
The deal was struck after Savills and Deloitte Real Estate were appointed earlier in the year to find a buyer. The firms courted interest from more than 200 would-be buyers.
Banker Joseph Safra, 75, is thought to be personally worth more than $15 billion, with over $50 billion in assets. He owns Banca Safra, Brazil's eighth-largest bank, as well as a private bank in Switzerland and an extensive property portfolio.
The Gherkin was designed by Lord Foster, and constructed for the firm Swiss Re, who are still the largest occupier of the building, occupying 50,000 square meters of office space. The pickled cucumber-shaped structure cost £183 million to build.
The building, officially called 30 St Marys Axe, was completed in 2004 to much critical acclaim, and won the Royal Institute of British Architects' Stirling Prize in the same year for its "elegant and impressive" design.
The Safra Group commented on their purchase, saying: "The acquisition of 30 St Mary Axe is consistent with our real estate strategy of investing in properties that are truly special – at the best locations within great cities."
The building was last sold in 2006 for £600 million by Swiss Re, at the height of the last property boom.
It was bought by a fund managed by Germany's IVG Immobilien, and Evans Randall, a UK private equity group. The buyers, however, had been in default for the last five years on the £395 million they borrowed to purchase the building.
The Safra Group added they had grand plans for the development of the already world-famous building.
"While only 10 years old, this building is already a London icon that is distinguished from others in the market, with excellent value growth potential."
"We intend to make the building even better and more desirable through active ownership that will lead to a range of enhancements that will benefit tenants," Safra Group said.
The site of the Gherkin occupies the area of the former Baltic Exchange, which was bombed in 1992 by the IRA, killing three people.
Its innovative design has been praised for maximizing the amount of daylight it receives, and uses about 50 percent less energy than a typical office building of similar size.
The 10 most famous buildings that make up the London skyline were valued at a total of £7.9 billion.