Show me the money: JPMorgan bankers top City pay grades at £461k a year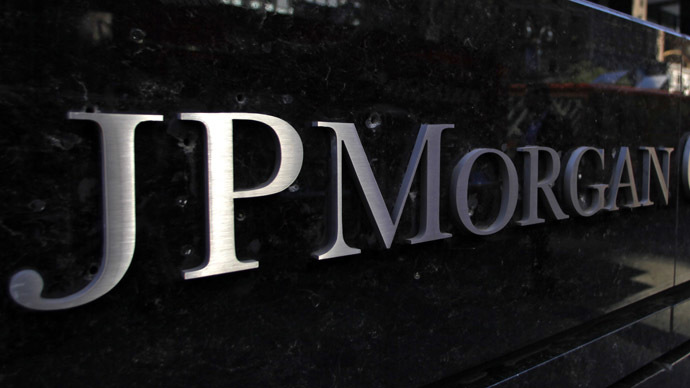 US investment bank JPMorgan pays its managing directors in London an average of £461,000 (US$737,877) per year – substantially more than any other bank in Britain's financial epicenter.
Pay data service Emolument published a survey on Thursday showing that the average salary and bonus for JPMorgan managing directors is more than 13 percent higher than its second place rival, Deutsche Bank, which pays its managers an average of £402,000 ($644,000), Reuters reports.
The third bank on the pay table was Bank of America Merrill Lynch, which pays an average of £376,000 ($602,000), according to Emolument.
UBS, Citigroup, and Morgan Stanley followed, each paying their managing directors an average of around £350,000 ($560,000). Once considered one of the top paying banks, Goldman Sachs ranked ninth in the survey with an average salary of £330,000 ($528,000), while Barclays ranked 13th.
Emolument's data comes as income inequality in Britain widens significantly. On the other side of the spectrum, as many as five million Britons are working in low paid jobs.
READ MORE:Mind the gap: UK the only G7 state to see a rise in wealth inequality – report
Research produced by a leading think-tank, the Resolution Foundation, revealed that those earning less than two-thirds of the median hourly pay – currently £7.69 ($12.32) – rose to 5.2 million people.
"While recent months have brought much welcome news on the number of people moving into employment, the squeeze on real earnings continues," said the foundation's chief economist, Matthew Whittaker.
"While low pay is likely to be better than no pay at all, it's troubling that the number of low-paid workers across Britain reached a record high last year."
Earlier this month, it emerged that US hedge fund Elliott Management paid one of its senior London executives more than £38 million ($60.8 million) last year. The figure is 1,437 times greater than the average UK salary of £26,500 ($42,462). The executive was not identified by name.
READ MORE:Millions of Brits stuck in low wage jobs despite economic recovery
Meanwhile, Oxfam revealed that the number of billionaires in the world has more than doubled to 1,646 since the financial crisis of 2009, with inequality reaching new extremes.
The combined wealth of today's billionaires has grown by 124 percent in the last four years, to $5.4 trillion, according to the Oxfam report.
"In a world where hundreds of millions of people are living without access to clean drinking water and without enough food to feed their families, a small elite have more money than they could spend in several lifetimes," Oxfam's chief executive, Mark Goldring, said.
"The consequences of extreme inequality are harmful to everyone - it robs millions of people of better life chances and fuels crime, corruption and even violent conflict. Put simply, it is holding back efforts to end poverty."