​NHS 'wasting £2bn' a year on excessive, 'unnecessary' treatment – report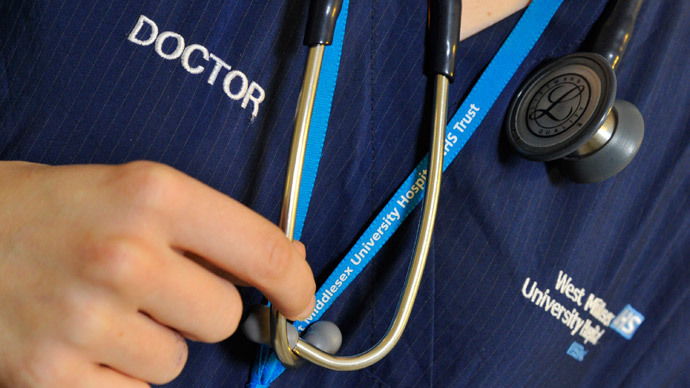 The National Health Service (NHS) is squandering billions of pounds each year, providing expensive treatment that patients do not need, a leading British medical body has warned. Unions and campaigners strongly dispute the claims, however.
Ina reportproduced by the Academy of Medical Royal Colleges (AoMRC) on Thursday, patients in the UK are increasingly being exposed to "unnecessary" procedures in hospitals, amidst increasing financial pressure on the NHS budget by the British government.
The yearlong study also found that that the NHS wasted approximately £2.3 billion every year by conducting procedures it could have provided more affordably, or avoided altogether. According to the report, one in five patients receive X-ray treatment for minor injuries, costing £221 million a year.
Doctors' dependence on pharmaceutical treatment was also criticized in the report, claiming £466 million could have been saved by doctors if they held off prescribing "cocktails of drugs" to older patients.
While the AoMRC, which represents the country's 250,000 doctors, says that the NHS will never be totally efficient, it said doctors had "an ethical duty to protect resources and promote value."
AoMRC chair Terence Stephenson said maintaining NHS services was dependent on "doctors ensuring the best use of resources today. Quality of care is a doctor's prime concern but delivering quality care and promoting value are really two sides of the same coin."
The @AoMRC identifies £3.2 bn in waste across the NHS via @guardianhttp://t.co/McXalhVZLgpic.twitter.com/gBVUWXuKsR

— Carolyn Barkin (@CarolynBarkin1) November 6, 2014
Stephenson also said some excesses in NHS spending could be due to "demanding patients," and that an increase in medical consultations were "often fuelled by the internet."
He said that misinformation online sometimes resulted in patients "demanding tests and treatments for which there's no evidence base, such as antibiotics for sore throats."
The report was praised by other medical institutes such as the Royal College of GPs Council, whose vice president Dr Tim Ballard said part of the UK healthcare system had been "overmedicalised."
However, trade unions and NHS campaigners rejected the academy's findings, arguing that the NHS was rated the most efficient public healthcare system in the world.
Groups such as the National Health Action party said that the NHS was already being forced to make £20 billion of "efficiency savings," which was putting significant pressure on hospital staff and GPs.
"The real elephant in the room is the market-driven system which costs £5 billion a year to run and actually drives demand. Doctors are forced to respond to patients' wants not their needs," said NHA co-leader Dr Clive Peedell.
"GPs are also under tremendous pressure not to miss things. A backache could turn out to be spinal cancer. The stakes are high when you're dealing with a person's life. So it's totally understandable why sometimes doctors may order what turns out to be, with hindsight, an unnecessary test. You don't know it's unnecessary until you've done it."
Peedell also said that austerity measures were forcing hospitals to cut back on purchasing new technology, which would save the NHS money in the long term.
"This market driven payment mechanism clearly discriminates against more cost effective innovative developments in the NHS," he said.