NHS sell-off: Private providers under scrutiny after botched eye ops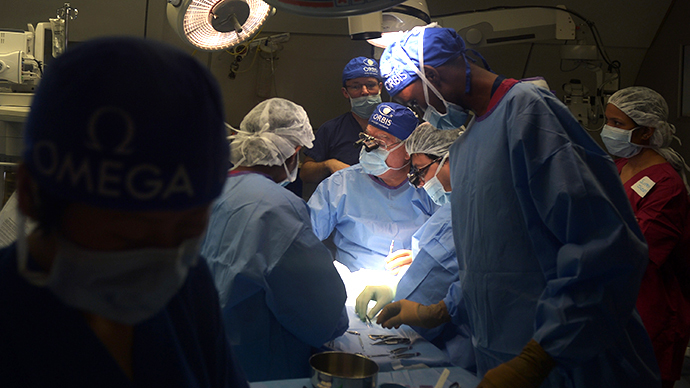 A private health provider at a UK NHS hospital has damaged the eyes of 31 patients in a slew of botched operations, throwing into doubt the Coalition Government's plans to expand the role of private providers working in the NHS.
Patients were left with partial loss of sight, blurred vision, pain and swelling after undergoing routine cataract operations provided by Vanguard Healthcare, a private firm brought into Musgrove Park Hospital, Somerset, to clear the waiting list backlog.
Cataract operations usually have a very low complication rate, with around one in 400 resulting in harm. The firm is now facing multiple legal claims for the 31 out of 62 operations that caused damage.
The scandal raises serious questions about government plans to tender more contracts to private providers in the state owned health service.
Laurence Vick, head of clinical negligence at Michelmores Solicitors, acting on behalf of a number of patients, said the case "uncovered the uneasy relationship between the NHS and the private sector."
"We don't know what arrangements are in place for Musgrove to recoup their outlay and losses on this contract from Vanguard," he said. "From the taxpayer's point of view, it would be totally unreasonable for Vanguard to walk away from this scandal with only their reputation, and not their [investment], damaged.
"It is crucial that an episode of this kind is not dismissed as an anomaly – a hybridized, public-private NHS will need to be wary of similar issues in future."
It is likely the NHS Trust will have to pay for any successful compensation claims, which means taxpayers would be footing the bill.
The NHS Trust said in a statement that its top priority was to care for those who suffered eye damage. "We have been in very close contact with them since the incident to ensure they are fully informed with our progress and receive the highest quality aftercare and treatment."
The Trust's chief executive, Jo Cubbon, said that "early into the arrangement" with Vanguard in May, "technical issues in the facility had arisen and it became necessary to cease the service arrangements in place".
Ian Gillespie, chief executive of Vanguard Healthcare, defended his staff, but assured the issue was being investigated. "Patient care is our number one priority and we're working closely with the Trust to understand and fully investigate the root causes of any complications," he said.
The Department of Health said it would make sure the company was held accountable if it was found guilty of any wrongdoing. "Patients deserve the safest and best care and the NHS will hold this company to account if things have gone wrong, and reclaim costs on behalf of patients," said a spokesman.
The cost of NHS privatization
Vanguard is not the first health firm to come under fire for offering poor standards of care. According to the National Audit Office, Serco falsified data when reporting to the NHS on targets it had failed to meet, while the Mount Alvernia hospital in Surrey, run by BMI Healthcare, agreed to suspend surgery after a damning Care Quality Commission report.
Meanwhile, a Clinicenta-run hospital had to be taken over by the NHS amid patient safety fears following the deaths of three people after routine surgery, while Virgin was accused of putting patients' health at risk by using receptionists with minimal medical training at its urgent care center.
Findings from the NHS Support Federation show that in the year since the government's changes came into effect there has been a 30 percent rise in the number of NHS contracts put out to competitive tender with their value increasing more three times to total £13.5 billion.
With 70 percent of NHS contracts being awarded to private companies over the last two years, serious questions have been raised about the impact of the government's new contract culture on patient care and service quality.
Protests are taking place across the country in an attempt to head off the slow privatization of the health service. The latest initiative is the "999 March for the NHS" campaign launched by Darlington Mums.
From August 16 to September 6, the 999 campaigners will be marching to London from Jarrow in the North East of England, echoing the Jarrow Crusade of 1936 where unemployed workers marched on the capital.
You can share this story on social media: