Nigel Farage says blacking-up "just a bit of fun"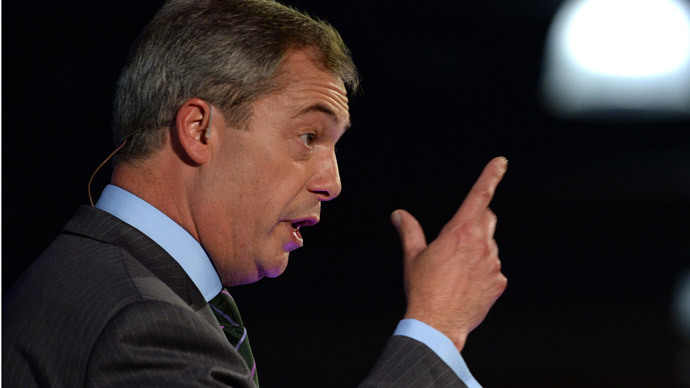 UKIP leader Nigel Farage has claimed he believes white people who "black-up" are not causing offence. Despite a prevalent view that the act is racist, he said it is the business of political correctness which has "gone too far."
Speaking on the ITV show The Agenda, Farage was asked whether he believed the act of blacking-up was offensive.
The Eurosceptic and anti-immigration party leader replied "I don't think it is, no. We have really gone too far with all of this."
"There's a huge difference between people causing offence and people doing what Mike Read did and having a bit of fun."
Former Radio 1 DJ Mike Read courted controversy recently with the release of his charity single "UKIP Calypso," which was deemed racially insensitive and featured the DJ singing in a hackneyed Jamaican accent.
Nigel Farage doesn't mind white people 'blacking up'? I am shocked, SHOCKED.

— Dylan H Morris MP (@TorySwing) October 28, 2014
On October 22 the DJ decided to withdraw his song from sale, following the barrage of negative media attention and the refusal of his designated charities to accept money from sales of the single.
Farage thinks white people not blacking up is just political correctness gone too far. What next slavery is okay too? http://t.co/cX04RwGxXm

— Tony Cowin (@TonyCowin) October 28, 2014
Farage then referred to Prime Minister David Cameron, who "was photographed with some people who were blacked up," saying that they were just "having a bit of fun."
In October the PM came under fire for being photographed with Morris dancers at the Banbury Folk Festival, some of whom had blacked-up as part of a 16th century tradition.
'Winning combination'
Farage's controversial claims come as Britain First, a far-right nationalist party, have outwardly shown their support for UKIP on social media.
On October 28, Britain First posted a Facebook status claiming that it had "nothing but the utmost respect for UKIP," further saying the media would not succeed in "desperately trying to cause friction between us."
UKIP denied that photos taken on October 28 of their campaigners with Britain First activists were intended, and have ruled out any allegiance to the party as a "mistake."
The party, formed in 2011, was launched by former members of the British Nationalist Party (BNP) and professes to more extreme doctrines than UKIP on issues such as mass immigration and 'Islamification.'
Britain First, however, believe their treatment by UKIP is all "bluster for the media's sake," and claimed they "understand that UKIP have to play the political game and distance themselves from us."
The far-right party has indicated they would fully support UKIP in an election, and posted that "UKIP at the ballot box, and Britain First on the streets" would be a "winning combination."