'New level of ignorance': UK charity blasts Farage's call to ban HIV-positive migrants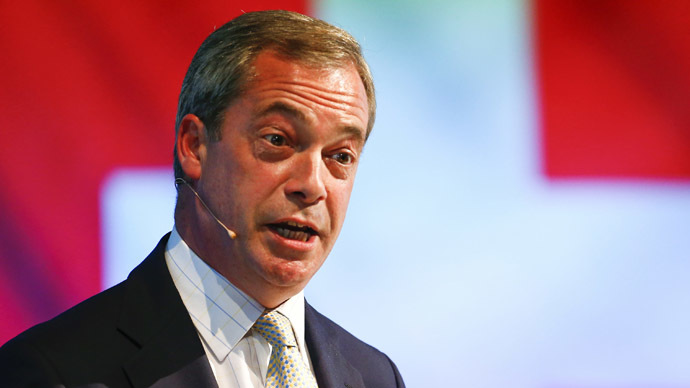 One moment Nigel Farage was enjoying his party's first UK election win, and the next he came under fire for "a new level of ignorance." The UKIP leader's latest gaffe came when he called for HIV positive people to be banned from migrating to Britain.
Farage claimed such a policy would mark a positive start to introducing stricter immigration controls in Britain.
The UK's oldest and most established HIV charity, the Terrence Higgins Trust, told RT the UKIP chief had demonstrated an "outrageous lack of understanding".
The organization, which raised £90,000 for HIV positive Britons at a charity event on Thursday, added Farage should be "truly ashamed" of himself.
Farage made the controversial remarks during an interview with Newsweek Europe, published a few hours after UKIP's by-election victory in Clacton on Friday morning. When probed on the sort of migrants Britain should welcome, Farage responded, "People who do not have HIV, to be frank – that's a good start."
He added that "people with a skill" would be welcomed.
Denounced recently by Liberal Democrat leader Nick Clegg for promoting "ugly nationalism," Farage's comments were reminiscent of panic-ridden perceptions of HIV in the 1980s when the Ronald Reagan's US administration imposed an outright ban on people with the virus from entering the country. The ban prevailed from 1987 until 2009, when it was finally terminated by Barack Obama.
According to Public Health England, 38 percent of people diagnosed with HIV in 2013 were born outside the United Kingdom. Between 2001 and 2013, 58,440 people born outside of Britain were diagnosed with HIV.
But that's out of the far bigger number of 7.5 million people living in the UK who were born elsewhere. Some 0.78 percent of those have been officially diagnosed with HIV.
Following his controversial statements, Farage was attacked on LBC radio by a woman named Charlie who has been living with HIV for over two decades.
The woman, who is receiving ongoing treatment for the virus, told Farage she was "very concerned about what UKIP is saying," and didn't believe she was "a drain on the national health system".
"I'm not a drain on anyone," she added.
But the UKIP chief defended his tough stance on immigration and HIV. While he acknowledged it was a positive thing that Britain had the finances and resources to care for UK citizens with serious illnesses, he said that turning the state's "National Health Service into a global health service" would deplete national resources.
"We don't want people who have got criminal records, and we can't afford to take people who have serious illnesses and life-threatening diseases," Farage said.
Angered by Farage's stance, Charlie accused the UKIP leader of making erroneous connections between the Ebola and HIV viruses, and of "ramping up fear" about HIV.
"You are playing the race card," she said. "You are homing in on black people and what you need to realise is that actually, this is not a black disease […] Ramping up the fear makes people hide."
Farage dismissed the woman's claim he was playing a race card as "ridiculous".
Dr Rosemary Gillespie, chief executive at the Terrence Higgins Trust, said Farage's logic on HIV and immigration was "draconian" and "ridiculous".
She stressed that the virus should not be used to discriminate against people.
"It is to the UK's credit that for more than three decades successive governments, no matter their political stamp, have refused to put in place border controls against people living with HIV," she said.
"Major international organizations, including the United Nations, agree that such draconian measures would have no impact on the epidemic. In bracketing those living with the condition with murderers, and suggesting there is no place for them in his vision of Britain, Mr Farage has stooped to a new level of ignorance."