Tory donor defects to UKIP, handing Farage £1million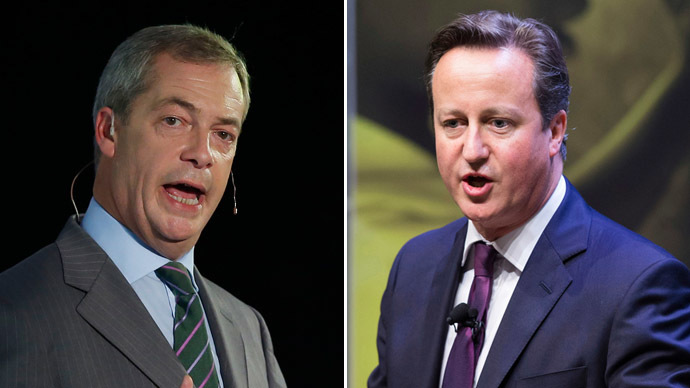 Prime Minister David Cameron suffered yet another embarrassing defection on Wednesday, as former Tory donor and millionaire Arron Banks vowed to donate £1million to UKip. The news follows a spate of Tory defections.
Banks, a UK insurance mogul who has channeled hundreds of thousands of pounds into Conservative Party coffers since 2005, has announced he will present UKIP leader, Nigel Farage, with a £1million donation.
He previously stated on Wednesday morning he would donate £100,000, but later upped is pledge.
Speaking to Sky News that morning, the former Tory donor acknowledged he was a long-time supporter of the Conservatives, but emphasized that Farage's euroskeptic party was more attuned to his political views.
The insurance guru added he was unconvinced by Cameron's pledge to reform the UK's relationship with the European Union or make a move to leave it, should the Tories return to power in the next general election.
"Being a member of the EU is like having a first-class ticket on the Titanic. Economically, remaining in the EU is unsustainable," he warned.
Banks' defection is but the latest in a series of blows to befall the Conservative Party in recent weeks. Several announcements since the Tory's four-day conference kicked off on Sunday have proved highly disruptive for the party.
On Saturday, Conservative MP Mark Reckless followed fellow renegade MP Douglas Carswell in abandoning the Conservatives' ranks for UKIP. Both defections have sparked by-elections.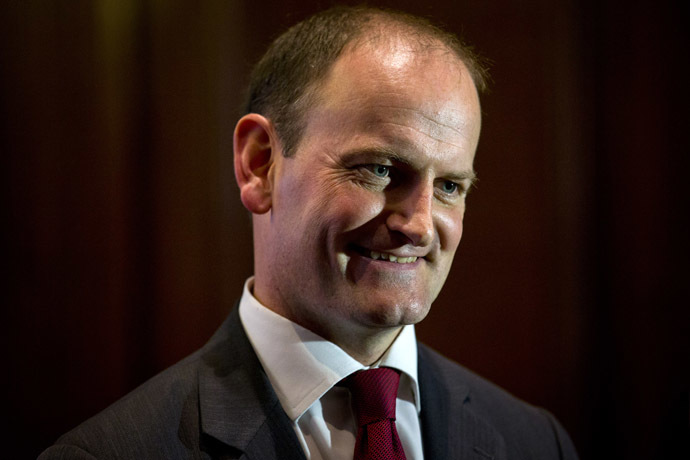 Reckless, former Conservative MP for Rochester and Strood, publicly declared his decision to jump ship on the eve of conference. He said he simply couldn't keep a pledge to "cut immigration while treating people fairly" under the Conservatives' watch.
During a crucial party conference, Cameron and his colleagues had hoped to show unity and ensure the party retains power in next May's general election.
Following his decision to channel funds to UKIP, Banks said Britain is being "dragged down to the lowest common denominator of financial growth" when the nation should be trading worldwide and should base its "future prosperity on a long-term global outlook."
He warned that the Conservative Party is attempting to sell Britons a "myth that EU reform is achievable," yet Cameron's powers are limited merely to "tinkering around the edges" of a system that doesn't support Britain's national interest. Banks added that Cameron appeared unable to publicly declare he would back a UK exit from the EU if his proposals for reform are unsuccessful.
Multi-millionaire and long term Conservative backer Arron Banks says he's switching support to UKIP http://t.co/zdR8hjUWoX

— UKIP (@UKIP) October 1, 2014
Speaking to the BBC Today program on Tuesday, Cameron acknowledged the European Union is "not working properly" for Britons at present. But he added the best solution for Britain is to secure a "reformed position in the EU," because it's ultimately a trading nation.
While the PM acknowledged it "is going to be tough" to renegotiate the UK's standing on the European stage, he said he was confident he would be successful in doing so.
Cameron is now facing increasing pressure to harden his stance on Europe in the wake of recent defections that threaten to destabilize the Conservative general election campaign next year. The defectors agreed in unison that the PM would be unlikely to keep his promise to hold an in/out referendum on Europe in 2017, should the Tories manage to retain power in 2015.
But Cameron indicated on Sunday he has not entirely ruled out the state's departure from the EU. "If I thought that it wasn't in Britain's interests to be in the European Union, I wouldn't argue for us to be in it," he told the BBC's Andrew Marr Show.
Finally @George_Osborne repeats @David_Cameron words: if not in UK national interest to stay in EU we wouldn't recommend yes @BBCr4today

— Nicholas Watt (@nicholaswatt) September 29, 2014
Speaking at the Conservative Party conference in Birmingham, House of Commons Leader William Hague claimed he had never heard of Banks, and insisted the millionaire's defection would "certainly not" overshadow Cameron's party conference speech.
"The PM will give a very strong speech today bringing together all our plans. The conference has fully moved on from the defection of one MP on Saturday and the gentleman you're talking about is not a senior figure in this party, not someone I know at all," he told BBC Radio 5 Live.
But the insurance entrepreneur's decision to switch his allegiance to UKIP will prove a considerable financial loss for the Tories. Since Cameron secured his position as party leader in 2005, Banks has donated a substantial 250,000 pounds.
Arron Banks recognises that it is the European Union that is holding Britain and her businesses back http://t.co/z1rV2wKa4J

— Nigel Farage (@Nigel_Farage) October 1, 2014
Commenting on Banks' defection, UKIP's Farage said Britain's business sector no longer held faith in Cameron's EU referendum pledge.
"This is the beginning of a significant move from the business community who are not prepared to wait for Mr. Cameron's referendum," said Farage. The UKIP leader hinted that Banks was considering standing as a UKIP candidate in May's general election.
Responding to news of Banks' defection, Labour Party frontbencher Michael Dugher said his Conservative opponents are in crisis.
"David Cameron is hemorrhaging support and his authority is ebbing away," Dugher said. "He can't control his party, who clearly have no confidence in his leadership."
You can share this story on social media: