​British doctor 'unlawfully killed' in Syrian jail, UK inquest finds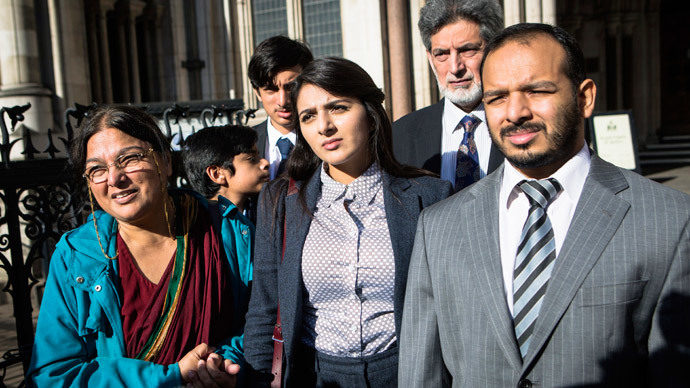 A British doctor who died in a Syrian jail was "unlawfully killed" according to a jury at London's Royal Courts of Justice, following an inquest into his death in 2013.
Dr Abbas Khan, 32, an orthopedic surgeon from Streatham, was volunteering in a hospital when he was arrested in Aleppo in November 2012 on terror charges.
Khan was "days away" from being released when he was found dead in an "unknown prison or place of detention" in Damascus on December 16, 2013.
The Syrian government say Khan had committed suicide by hanging himself in the prison. However, his family claim he was murdered while in the prison cell.
"We have always maintained he was an innocent man who travelled to Syria for no other reason than to help civilians in the Syrian conflict," said Dr Khan's brother Afroze.
— Hardeep Matharu (@Hardeep_Matharu) October 27, 2014

"We have always maintained he was mistreated, maltreated and tortured by the Syrian authorities, and maintained he was murdered by the Syrians."
During the two week hearing at the Royal Courts of Justice, the jury heard no evidence that Dr Khan had travelled to Syria to fight with rebel groups, and that he wanted to use his medical skills to "help others in conflict-torn Syria."
Giving evidence to the inquest, Dr Khan's mother, Fatima, described him as "angelic" and recalled how she travelled to Damascus in July 2013 to try to find her son at a Syrian court.

"I hugged him. He was a skeleton. He was in tears. I said: 'Look, mummy is here for you.' He said: 'Sorry, I shouldn't have come here, please take me home,"she said.
When she asked him about his injuries, which included broken fingernails and burnt feet, he said he had "suffered more than this." Additionally, she told the jury Dr Khan was attacked by prisoners and interrogators, who beat him with rubber hoses.
Khan also told the jury the conditions of the jail were "like hell,"and were infested with mice, cockroaches and feces.
A number of British politicians travelled to Syria last year in an attempt to secure Dr Khan's release, including Respect MP George Galloway and former MEP and BNP chairman Nick Griffin, although the delegation was unsuccessful.
DCI Grant Mallon told a brief hearing in December that news of Khans' death was passed on via a Czech representative in contact with the British government.
"It was their opinion he had committed suicide although the motivation for this was not apparent to them," Mallon said, adding that the Syrians claimed there were "no traces of violence, forced resistance or torture on the body."
Khan's body was later taken by the International Red Cross into Lebanon, where he was identified by his brother.
Prime Minister David Cameron called Dr Khan's death "a sick and appalling tragedy," while the official Foreign and Commonwealth Office (FCO) position claimed he was "in effect, murdered."
A number of aid workers in Syria have been killed as a result of the ongoing conflict, with many being held hostage by militia groups including Islamic State (IS/ISIS/ISIL).
Earlier this year, Salford aid worker Alan Henning, 47, was beheaded by ISIS militants, despite calls by prominent Muslim clerics and the international community for his release.