2nd Jihadist Brit fighting for ISIS gunned down in Syria - reports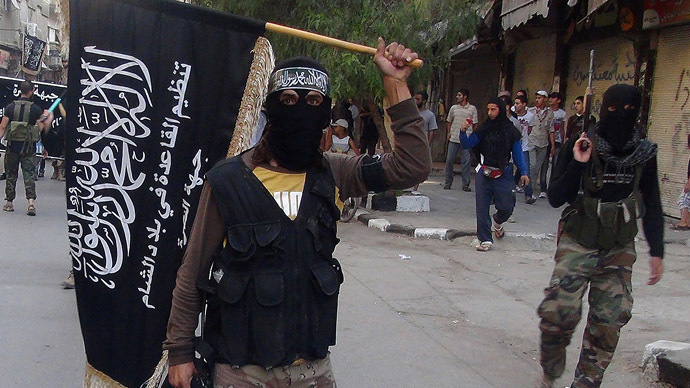 A British man, who was a supervisor at a British clothing chain, has reportedly been killed in Syria while fighting for the rebel insurgent group, the Islamic State (IS, formerly ISIS).
Muhammad Hamidur Rahman, 25, from Portsmouth, was shot dead during gunfire a fortnight ago, according to his father, Abdul Hannan.
Hannan told the Daily Mail he was notified of his son's death by text message, which was likely sent by other foreign fighters serving with the Islamic State.
Recalling the last telephone call with his son, Mr Hannan told the Mail:"He asked us to pray for him, and said he wanted to become a shaheed (martyr) for the sake of Allah."
British foreign fighter with #ISIS, Hamidur Rahman from Portsmouth, has died in Syria, acc to reports. V @ShirazMaherpic.twitter.com/qyNkVrkDZO

— Joseph Willits (@josephwillits) August 9, 2014
While it is unknown where Rahman was killed, the reports suggest he is the second known Briton to have died while fighting in Syria.
Rahman is one of hundreds of Britons thought to have joined the IS, a group that has become notorious for acts of extreme violence and depravity, including instances of public flogging and beheadings. It is thought that nine other Britons from Portsmouth joined him in the region.
According to the daily, Rahman flew to Turkey in October, before crossing the border to Syria. He informed his parents just days later that he had joined an aid convoy in the region.
From my interactions with him, Hamidur Rahman, deceased British fighter in Syria, was very focused, committed and serious about his cause.

— Shiraz Maher (@ShirazMaher) August 9, 2014
In June, Prime Minister David Cameron said that British citizens fighting in Iraq and Syria were the biggest threat to Britain's national security.
"No-one should be in any doubt that what we see in Syria and now in Iraq in terms of ISIS is the most serious threat to Britain's security that there is today" he said.
"The number of foreign fighters in that area, the number of foreign fighters including those from the UK who could try to return to the UK is a real threat to our country."
Last week, the Islamic State trapped thousands of people from the Yazidi minority group on Mt. Sinjar in northwestern Iraq, leaving them without food or water. According to Iraqi intelligence, the Jihadists are said to have killed at least 500 people, with some of the victims allegedly having been 'buried alive.'
The action forced the US to carry out strategic airstrikes in the Sinjar area, which has allowed around 30,000 Iraqis to flee to Iraqi Kurdistan, according to Kurdish official, Shawkwat Barbahari.
"Most of them crossed yesterday and today, this operation is ongoing and we really don't know how many are still up there on the mountain," he told AFP.
US fighter jets and drones also struck vehicles and artillery captured by the IS, along with targeted strikes in Islamic State positions that threaten Erbil, where dozens of US special operations personnel are based.
The UK also assisted the US in delivering aid to displaced Iraqis in Sinjar, with Foreign Secretary Phillip Hammond announcing an air drop of drinking water and tents on Saturday. However, after chairing an emergency meeting with the government's 'COBRA' committee, he said this was only a short term solution.
Describing the crisis in northwestern Iraq as 'unacceptable', Hammond said: "We can expect a continuing drumbeat of airdrop operations working in coordination with the US and potentially with others as well."
Hammond is to chair another meeting with the committee on Monday, to discuss the situation in Iraq and further options for humanitarian assistance.
Since declaring the 'Islamic State' last month, the ultra-radical and fundamental group has made sweeping territorial gains in Iraq's biggest cities. They reportedly gained control of the Mosul dam on Saturday, one of the country's main water supplies that was controlled by Iraqi Kurdistan. Many officials fear the Islamic State could intentionally destroy the dam to create floods, causing a humanitarian crisis beyond anything Iraq has ever experienced before.
You can share this story on social media: