Huge rise in cybercrime, Brits fail to report attacks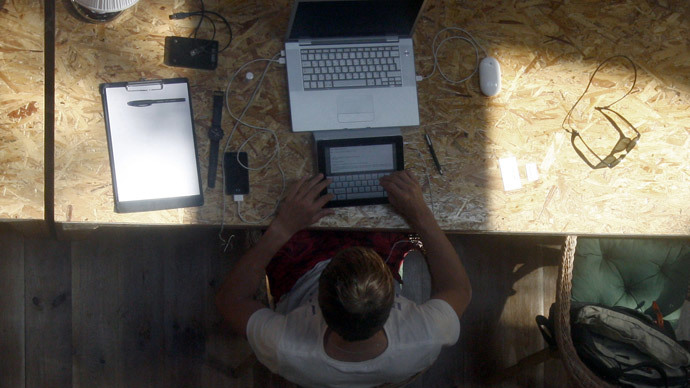 More than half of Britons have been victims of online 'cybercrimes' including hacking, ID theft and fraud, according to a poll. The Cabinet Office says a significant number are unaware of who to contact in the event of an online attack.
The statistics, collected by research firm Vision Critical as part of 'Get Safe Online Week' 2014, surveyed 2,075 people on the issue of internet crime, with around 51 percent saying they had felt "violated" after falling victim to attack.
The results also show that despite a huge rise in cybercrime in the UK, less than a third of those affected actually reported attacks to the authorities, largely because they did not know whom they are supposed to contact.
The survey follows the mass leak of nude photographs of celebrities, including Oscar-winning actress Jennifer Lawrence.
"Our research shows just how serious a toll cybercrime can take, both on the wallet and on wellbeing, and this has been no more apparent than in the last few weeks, with various large-scale personal photo hacks of celebrities and the general public," said Chief Executive of 'Get Safe Online' Tony Neate.
"Unfortunately, this is becoming more common now that we live more of our lives online."
Neate also said adding more passwords to electronic devices, not clicking links sent by strangers and logging off social media accounts after use would help people to protect their personal data on the internet.
A growing trend
Speaking to RT exclusively, CEO TMX holding partner of Group IB and cyber security expert Anna Boukovskaiasaid conventional passwords were no longer enough to keep personal data safe, especially as a simple computer can"try on average 8.2 billion password combinations each second."
According to her research, the average time to crack a character password is 2 minutes and 32 seconds, something which "a decade ago, were only possible when using supercomputers."
"Only direct and personal experience of cybercrime will trigger a change in attitude and online habits," she added.
READ MORE:Cyber attacks could pose 'serious risk' to UK financial system – MPs
The Vision Critical report also highlighted a spike in crimes carried out on mobile electronic devices with connection to the internet, such as tablets and mobile phones, where users are less likely to have PINs.
"According to some experts (Group IB), mobile Trojans are already installed in over 500,000 phones and according to some estimates, over 80 percent of all phones running Android OS have some type of virus," Boukovskaiatold RT.
"In 2013 over $3 million was stolen via mobile platform and this trend will only grow."
Cost if cybercrime
Cybercrime costs the global economy more than £200 billion annually, according to internet security provider McAfee, which conducted a report on the issue in June.
The National Fraud Intelligence Bureau (NFIB) also estimates that criminal activity on the internet is estimated to cost the UK alone more than £670 million, although the actual figure is probably far higher.
However, the government insists it has put forward measures to curb cybercrime as part of its economic strategy.
"As part of this government's long-term economic plan, we want to make the UK one of the most secure places to do business in cyberspace," said Minister for the Cabinet Office Francis Maude.
"We have a £860 million Cyber Security Program which supports law enforcement's response to cybercrime and we are working with the private sector to help all businesses protect vital information assets."
"The UK cyber market is worth over £80 billion a year and rising. The internet is undoubtedly a force for good but we cannot stand still in the face of these threats, which already cost our economy billions every year," he added.
READ MORE:UK crime agency seeks total access to citizens' emails, social media content
The report also adds that password security remains poor among UK web users, with one in 20 Britons using the same password details for all their online accounts, while around 10 percent never changing their passwords.
The UK government recommends any victim of cybercrime report attacks to Action Fraud, the UK's national fraud reporting center, while those subject to abuse should call their local police service.
The report comes as the government introduces new legislation criminalizing cyber bullying and internet 'trolling'. Under the law, drafted by Justice Secretary Chris Grayling this week, such 'trolls' could be sent to prison for up to two years if found guilty.