​Cash without honor? Cameron blasted for courting tycoons, despite anti-lobbying bill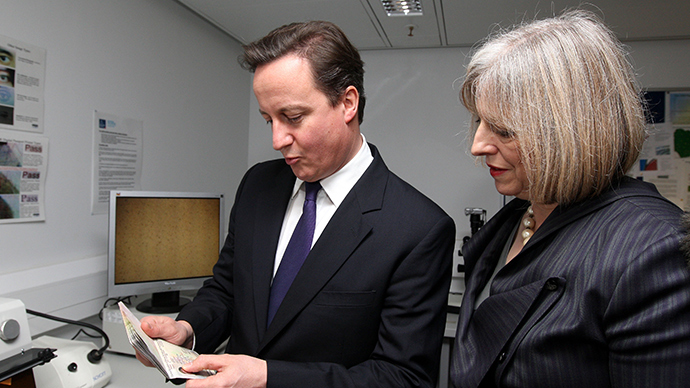 Top Tory politicians including Prime Minister David Cameron dined with billionaire donors, including big landowners, at a dinner that cost around £1,000 per head.
Top Tory politicians including Prime Minister David Cameron dined with billionaire donors, including big landowners, at a dinner that cost around £1,000 per head.
According to leaked documents seen by the Guardian and the Bureau of Investigative Journalism (TBIJ), representatives of big business rubbed shoulders with the senior politicians at the annual 'black and white' ball held in February.
The TBIJ report also shows that among the guests were executives of a highly controversial doorstep lending firm called CLC finance, a company that sells Christmas hampers and shopping vouchers. In 2012, however, it was heavily criticized for soliciting retired elderly people, including a couple that had amassed loans of up to £65,000.
Records from Britain's electoral commission also show that CLC finance had donated more than £25,000 to the party in the past three years, with the first donation happening at a time when the government was being encouraged to regulate payday loan companies.
According to the Mirror, property tycoons and a Ukrainian energy boss also attended the event, while the Prime Minister sat next to one of the countries' wealthiest peers, whose family is allegedly worth £4.2 billion.
The leak comes following accusations that Cameron has backtracked on statements made earlier in parliament, when he pledged to clean up politics by getting rid of big lobbying.
In a speech entitled 'Rebuilding Trust in Politics', Cameron said that lobbying was the "next big scandal waiting to happen" and that there was a "far too cozy relationship between politics, government, business and money."
"We all know how it works. The lunches, the hospitality, the quiet word in your ear, helping big business find the right way to get its way. We must be the party that sorts all this out," he said.
"So if we win the election, we will take a lead on this issue by making sure that ex-ministers are not allowed to use their contacts and knowledge – gained while being paid by the public to serve the public – for their own private gain."
While the Conservative Party would not comment on the speech, anti-corruption campaigners and bloggers have accused the party of deliberately removing the speech from its website.
While the Conservative party has come under fire for illicit donations in the past, a spokesperson told RT that it stuck to the rules set out by the Electoral Commission.
"All donations to the Conservative party are declared and published by the Electoral Commission. Lists of all ministerial meetings with external organisations are published on a quarterly basis," they said.
"Ministers meet a range of organizations – voluntary, commercial or educational. Any suggestion that policy is influenced by donations is malicious and defamatory and will be treated as such."
This is not the first time the Conservative party has come under pressure to crack down on party donations as a covert form of lobbying.
Last year, the Guardian revealed a network of bankers, businesspeople and lobby groups attending a secretive fundraising dinner, which cost up to £12,000 per person. The dinner hosted six billionaires and 15 people whose wealth was valued at over £100m, including oil magnates and big scale property developers.
The main sponsor of the dinner was Shore Capital, a boutique investment bank that donated £450,000 to the party through a series of associated companies.
The findings come in light of Britain's new anti-lobbying bill, which was passed in September. The measure sets spending limits on how much think tanks, charities, NGOs and Trade Unions can spend on political lobbying and campaigning.
You can share this story on social media: