​#WakeUpCall: New viral charity challenge aims to help Syrian children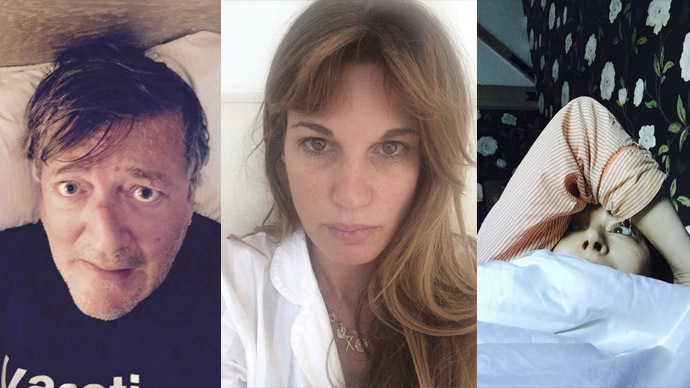 It seems the summer has melted the Ice Bucket Challenge from social media, and replaced it with a new viral charity effort, spearheaded by UK socialite and UNICEF ambassador Jemima Khan.
The #wakeupcall campaign nominates users on social media to take photographs of themselves when they wake up, and post it on their pages, before nominating others to do the same.
#WAKEUPCALL Text SYRIA to 70007 (to give £5) or http://t.co/xGAxIU755i (I warn you - look away) pic.twitter.com/DoGvA65s1s

— Stephen Fry (@stephenfry) October 6, 2014

Each photo is accompanied by a donation to UNICEF in order to aid people affected by the war in Syria, particularly the estimated 6.5 million children displaced by the conflict.

Money raised by the campaign will raise money for refugees in the Zaatari refugee camp near the Jordanian border, which currently houses 80,000 people fleeing from conflict areas in Syria.
"Post a video of your #wakeupcall or a photo of yourself first thing" Jemima Khan tweeted on Monday.
#WAKEUPCALL Text SYRIA to 70007 to give £5 in the UK or http://t.co/0DjKEuGYQX Post photo 1st thing & nominate 3 more pic.twitter.com/QQ6tb0qK6O

— Jemima Khan (@Jemima_Khan) October 5, 2014
"Then nominate three friends to show us their #wakeupcall and help wake people up to the crisis for Syrian children."
Naomi Campbell & Tom Hiddleston are taking selfies to make a difference: http://t.co/MCWJlg8ynG#wakeupcallpic.twitter.com/ChuKswR2vn

— birchbox (@birchbox) October 8, 2014
Other big name celebrities including British TV host Stephen Fry, the supermodel Naomi Campbell and celebrity chef Nigella Lawson have also participated in the campaign.
"I considered asking friends to donate money not to have to attend another dreary charity dinner, but have decided that the quickest way to raise money is through a social media campaign – to try to replicate the astonishing success of the Ice Bucket Challenge," Khan wrote in an article for the New Statesman magazine.
UNICEF hope that the campaign will be as successful as its predecessor, the 'Ice Bucket Challenge', which raised more than £7 million for the Motor Neuron Disease by September in the UK, possibly making it the biggest online charity campaign of all time.
Text SYRIA to 70007 (& give £5) or http://t.co/JyA7dUL8PN#UNICEF@mariamcerlane@sturdyAlex@lenadunhampic.twitter.com/NovErR2ydx

— Nigella Lawson (@Nigella_Lawson) October 7, 2014
Other internet campaigns such as #nomakeupselfie were also successful at raising money for charity, with the campaign raising £2m for Cancer Research.