Firefighters shocked during Ice Bucket Challenge as US officials, Catholics warn against trend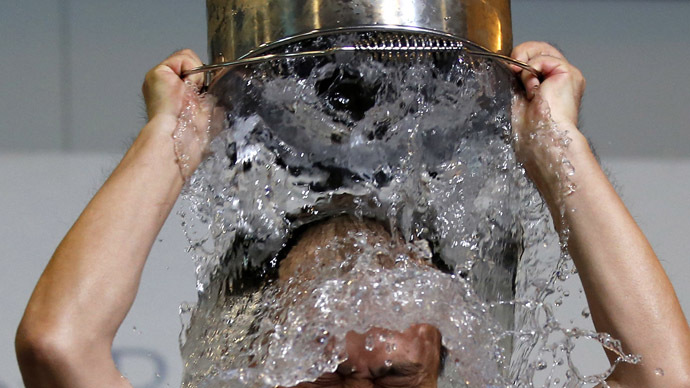 Four firefighters were shocked by a nearby power line on Thursday in the process of helping students at Campbellsville University participate in the 'Ice Bucket Challenge,' a social media-fueled fundraiser for ALS research.
Two of the Kentucky firefighters on the ladder of a fire truck used to dump water on the students had to be airlifted to the University of Louisville Hospital to be treated for severe burns. The first, Capt. Tony Grider, is in critical condition, according to WHAS11, while the other, Simon Quinn, has been "upgraded from serious to fair condition."
"[It] appears energy arced over and ladder didn't actually hit lines. If you get within certain radius that can happen," officials said Thursday.
Two other firefighters were also shocked by electricity that traveled down the ladder.
"From talking with power company technicians, if you get within a distance of three or four feet, the energy that surrounds the high-voltage wire will actually arc over onto another object, in this case being the personnel occupying the bucket," Campbellsville Police Chief Tim Hazlette told WAVE.
The Ice Bucket Challenge has swept across the United States in recent weeks. Participants dump ice water on themselves, promising to also donate money to research of amyothrophic lateral sclerosis (ALS), a nerve cell disease in the brain and spinal cord. Participants then challenge others to do the same. Much of the "challenging" has been done via social media outlets like Facebook.
ALS is also known as Lou Gehrig's disease, named for the legendary New York Yankees first baseman who died prematurely after contracting the neurodegenerative disorder.
According to ESPN, the first two weeks of the challenge in early August garnered the ALS Association about $7.6 million in donations.
While the challenge may be a for a good cause, officials in Washington say government employees ‒ especially high-ranking ones ‒ must avoid taking part for fear of violating ethics rules.
The State Department and the US House of Representatives have told employees they cannot participate based on guidelines that do not allow government officials to use their taxpayer-funded office for private influence. However, that warning has not been heeded by all members of Congress.
Mitt Romney gets ALS Ice Bucket Challenge by Paul Ryan: http://t.co/DnE2ZWpcZt#MittRomney#IceBucket#politics#Republican#democrat#funny

— Phil Hamby (@Phil_Hamby) August 22, 2014
The Pentagon barred its soldiers from taking part given they "cannot have ice dumped on them while in uniform — including civilian uniforms," the Military Times reported.
Meanwhile, some Catholic and anti-choice organizations are telling supporters that, despite the "noble" cause, they should consider against donating to the ALS Association since the organization supports the use of human embryos in research of the disease.
"Embryonic stem cell research, which requires the destruction of pre-born people, is inherently unethical and a violation of fundamental human rights, and even materialists must admit that promises of its benefits have failed to deliver. There is no good reason to condone this practice; in fact, all it does is taint the ALS Association, whom I'd otherwise be happy to support," said Lila Rose of the anti-abortion group Live Action.
The Catholic Archdiocese of Cincinnati has also discouraged participation.
"We appreciate the compassion that has caused so many people to engage in this," Dan Andriacco, a spokesperson for the archdiocese, told Cincinnati Enquirer. "But it's a well established moral principle that a good end is not enough. The means to that ends must be morally licit."
You can share this story on social media: