#indyref 2014: Social media's best reactions to Scottish independence campaign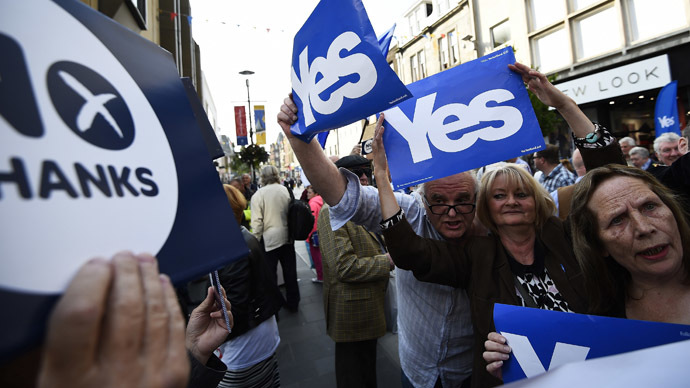 Scotland's drive for independence may signal the most historic moment in UK history. Despite the gravity of the vote, some are taking a more light hearted approach. From memes to trolling, here are a few of the best social media moments' of #indyref 2014.
Here's the man who could destroy the entire Union

Was this sabotaging of Alex Salmond an unfortunate 'coincidence' ?
Not a great look for Alex. Camerons' work? #indyrefpic.twitter.com/UdJRKbQxLf

— Referendum Boys (@referendumboys) September 14, 2014

Or Illuminati?
— Martin Waterston (@Waterston86) September 13, 2014

Even with the future of the union at stake, who would waste an opportunity to be on TV?
Some hardcore BBC-hating here. RT @strange_signs: What did CBeebies ever do to Scotland? pic.twitter.com/Z7ReNoswjy

— The Sunday People (@thesundaypeople) September 15, 2014
Well done, internet.


And when the Yes campaign started surging in the polls, Better Together knew they had to do something. So they called in the big guns:
@DaftLimmy Wow, Beckham's original Better Together draft to Scotland is so much more revealing. #IndyRefpic.twitter.com/j1SE43Z3Ca

— Crucial Bang (@crucial_bang) September 15, 2014
Simon Cowell giving his thoughts on the Scotland referendum......erm Simon you don't even live in the UK and your opinion isn't needed

— Lindsay (@I_am_Linz) September 11, 2014


Of course, only one opinion really matters:
Currency sorted - Kim Jong-Un:'backs independent Scotland' — send whisky http://t.co/OcSL7Z0jx1 /@StigAbell#indyrefpic.twitter.com/LRToG7lKtD

— Gordon MacMillan (@gordonmacmillan) September 12, 2014


But even though the referendum debate has been so tense that it's even torn families apart…
Dad unfriends his daughter on Facebook because she is voting for Scottish independence http://t.co/PdDV00SQqZ

— Metro (@MetroUK) September 13, 2014


Scots still had a fun time trolling politicians:


And whatever happens on Thursday's vote, one thing is certain......


This photo will haunt you for the rest of your life:
Nothing disturbing about this Cameron Salmond face swap (by @JimboLoony) pic.twitter.com/tCr3fyA6ek

— The Poke (@ThePoke) September 14, 201