'Yes victory is possible': Support for Scottish independence jumps to 47%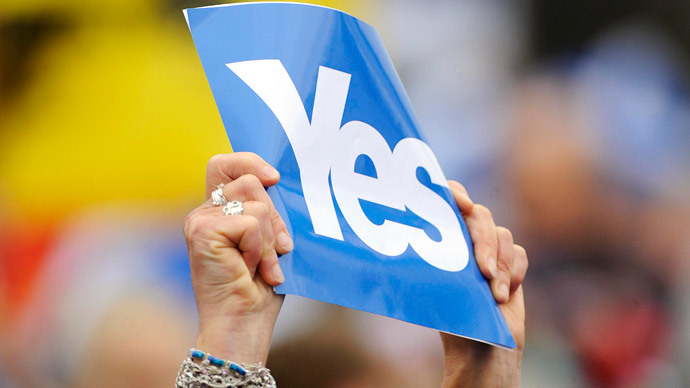 Support for Scottish independence is at its highest level ever according to a new poll, with nationalists rapidly closing the gap against unionists just two weeks before Scots vote whether to split from the UK.
YouGov's poll showed the unionist lead had shrunk from 22 percent a month ago to just 6 percent. Overall, support for independence leapt to 47 percent in August. The figures, published in The Sun, suggest a significant shift in opinion ahead of the September 18 referendum.
The poll, which questioned 1,063 people, was carried out between August 28 and September 1. The Yes campaign has never been ahead in a YouGov survey. The spike in support, however, indicates the vote will be closer than many expected.
"A 'Yes' victory is now a real possibility," YouGov President Peter Kellner said. "A close finish looks likely."
Writing in the Sun on Tuesday, Kellner described the independence campaign as being "in touching distance of victory."
Peter Kellner: a 'Yes' victory for Scottish independence is now a real possibility - http://t.co/O8PEhY7tFr

— YouGov (@YouGov) September 2, 2014
Asked how they would actually vote in the referendum, 42 percent of respondents said they would vote for independence, while 48 percent said they would vote against. Eight percent said they did not know and 2 percent did not intend to vote.
Excluding those not intending to vote or undecided, the poll showed support for the union at 53 percent against 47 percent in favor of independence.
It was the first time a YouGov poll has showed support for 'Yes' surpassing 40 percent and support for 'No' falling shy of 50 percent. Of the roughly 4 million Scots entitled to vote in the referendum, it appears 320,000 are still undecided.
Poll shows all-time high for Yes support in a YouGov survey #indyref#voteYes#Scotlandpic.twitter.com/m3KP360hV9

— Yes Scotland (@YesScotland) September 2, 2014
"The 'Yes' campaign has both gained converts, and secured a two-to-one lead among people who were undecided and have now taken sides," Kellner said.
YouGov said the swing was likely down to the success of Yes campaigners in convincing voters of an independent Scotland's economic potential. First minister Alex Salmond's victory in his final televised debate against Better Together chairman Alistair Darling also seems to have provided a boost.
"More and more people are beginning to realize that a 'Yes' vote is Scotland's one opportunity to make that enormous wealth work better for everybody who lives and works here," said Blair Jenkins, head of the independence campaign team.
"This breakthrough poll shows that 'Yes' has the big momentum. We only need another three-point swing to achieve a 'Yes' for Scotland on 18 September," he told the Guardian.
"While the 'No' campaign press the panic button and blame each other for a series of blunders, 'Yes' will get on with the job of persuading more of our fellow citizens – both 'No' and undecided voters – that we need a yes vote to put Scotland's future in Scotland's hands."
Saying No Thanks to independence can give us the best of both worlds for Scotland within the UK. Watch here https://t.co/KR1CSV30l7#indyref

— Better Together (@UK_Together) September 2, 2014
Prime Minister David Cameron would face calls to resign ahead of the May 2015 general election if Scotland secured a yes vote. In response to the poll results, the pound fell 0.5 percent lower against the dollar to reach a five-month low, the Wall Street Journal reported.
Projecting an image of confidence on Monday, the government said it was not drawing up contingency plans for a vote in favor of Scottish independence.
"No such work (is being) undertaken," Prime Minister David Cameron's official spokesman told reporters. "The government's entire focus is on making the case for the UK staying together."
Yes means...: http://t.co/eZnclOAJrS via @YouTube

— Andrew Fairlie (@AndrewFairlie1) August 29, 2014
The Better Together campaign director, Blair McDougall, urged supporters of the union to throw their energy into the final weeks of the campaign to win over undecided voters.
"We need the silent majority who back a no vote to do their bit. Whether it's voting on the day, knocking on doors, making phone calls or speaking to friends and family, the silent majority should feel confident in speaking up," he told the Guardian.
"The nationalists talk as if they are winning but the truth is, this is yet another poll showing the campaign for Scotland to stay in the UK in the lead."
Voter registration closed on Tuesday. Figures suggest there will be a high turnout on polling day. Salmond has said upwards of 80 percent of registered voters could cast their ballot in the referendum.
You can share this story on social media: