Cameron in plea to Scottish voters ahead of independence referendum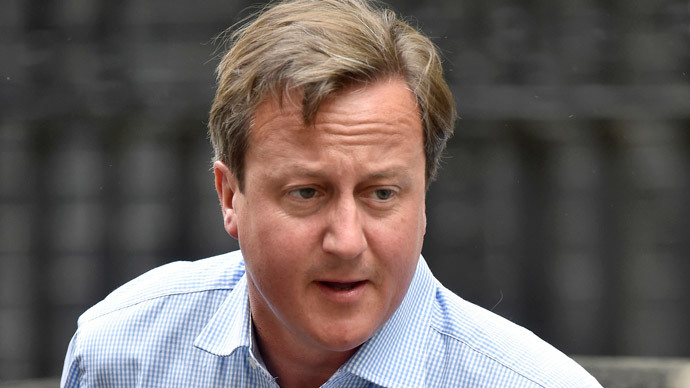 David Cameron will enter the fray in the Scottish independence campaign, vouching for the Union as "an economy of opportunity" as business leaders publicly take sides three weeks ahead of the 18th September in-or-out referendum.
Speaking at CBI Scotland's annual dinner in Glasgow, Cameron will focus on the connectedness of the Scottish economy to England, Wales and Northern Ireland. He will say that in some industries, Scottish companies source 90 percent of their customers from the UK.
According to Cameron, trade between the UK and Scotland supports 1 million Scottish jobs, or about 20 percent of the population.
"This is one of the oldest and most successful single markets in the world," Cameron will tell his audience. "Scotland does twice as much trade with the rest of the UK than with the rest of the world put together – trade that helps to support 1 million Scottish jobs."
"This success doesn't happen by accident. It happens because of the skill of people in Scotland and the opportunities that come from being part of something bigger, a large domestic market, underpinned by a common currency, common taxes, common rules and regulations, with no borders, no transaction costs, no restrictions on the flow of goods, investment or people. Ours really is an economy of opportunity."
Scottish First Minister Alex Salmond, who is widely believed to have won his second and final debate against the pro-UK government's "Better Together" campaign chairman Alistair Darling, will respond, saying that Scotland is more than capable excelling in business as an independent state.
"Scotland is one of the richest countries in the world – wealthier per head than the UK, France and Japan, so we are more than capable of being an economically successful independent country," he will say in comments released Thursday in the Guardian.
"I have challenged David Cameron to a debate, now that Mr Darling has said he will refuse any more head-to-head encounters – but whether he accepts that challenge or not, the PM must use his visit to Scotland to say what powers Westminster is guaranteeing, to allow the job-creating businesses of Scotland to boost employment and the economy."
The key questions of the #indyref answered. #Scotland#VoteYespic.twitter.com/vQ3yK2SPY7

— Yes Scotland (@YesScotland) August 28, 2014
On Thursday, 200 Scottish business leaders put their names to an open letter published in a Glasgow newspaper backing Scotland's independence.
Leading signatories are Sir Brian Souter, chairman of Stagecoach, an Australian-based transport giant, Jim McColl, chairman and CEO of Clyde Blowers, a £1 billion engineering group, and Ralph Topping, former CEO of bookmaker William Hill.
"We are involved in business and entrepreneurship at different levels in Scotland and around the world. We believe independence is in the best interests of Scotland's economy and its people," the letter reads.
This follows a pro-UK letter on Wednesday in which 130 business leaders, among them the heads of BHP Billiton, Aggreko and HSBC, opposed the breakaway, claiming that the "Yes" campaign "had failed to make the business case" for an independent Scotland.
131 business leaders, employing over 50k Scots, have said separation is too big a risk on currency & jobs. #indyrefpic.twitter.com/5ZJpLC9kFl

— Better Together (@UK_Together) August 27, 2014
The letter argued that Scotland's business success is directly correlated to its integration with the UK economy, which is more than 10 times bigger than the Scottish economy of $250 billion.
It further argued that Scotland's recent success, record growth in investment and high employment are both connected to integration with the UK, and that separation would put progress at risk.
The Scottish government has rebutted claims that a vote for independence will be punitively expensive, and has demanded its share of assets in the event of a break-up of the UK. It is calling for its share of £1.3 trillion ($2.19 trillion) of UK assets to support an independent Scottish economy.
"Scotland is entitled to a fair share, giving us an even stronger base to build on," Scottish Finance Minister John Swinney told Reuters. "In the case of physical assets overseas or defense assets that cannot be transferred or shared with Scotland, then the result will be for Scotland to receive a cash share of their value or to see our share of UK debts reduced."
Most polls suggest a majority of Scottish voters will back remaining in the UK, with the "Yes" camp trailing by an average of up to 14 percentage points. However, Salmond's performance in the final televised debate could offer pro-independence supporters the momentum they need to close the gap in the final weeks of the campaign.
You can share this story on social media: