Opponents of Scottish independence 'bluffing' on currency scare, says economist Stiglitz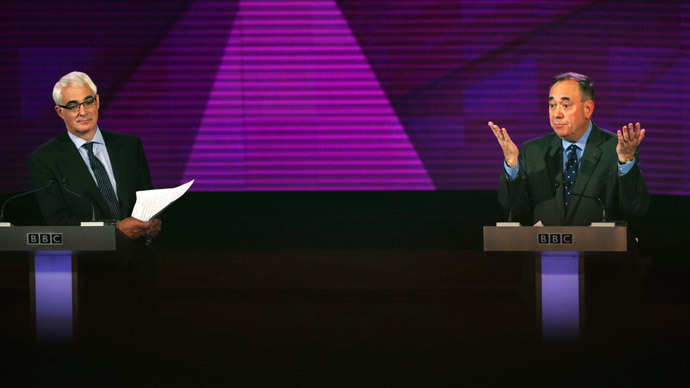 Nobel laureate Joseph Stiglitz said the anti-Scottish independence campaign is "bluffing" in its scaremongering over the nation's currency. His comments underscore a resounding pre-referendum debate victory for Scotland's pro-independence leader.
Ahead of the televised debate between First Minister Alex Salmond and the pro-UK campaign leader Alistair Darling on Monday night, Stiglitz told an audience at the Edinburgh International Book Festival that the three main UK parties were "bluffing" when they ruled out Scottish National Party (SNP) calls for a post-independence currency union.
All three main parties in Westminster reject the notion of a shared currency union with an independent Scotland. Carwyn Jones, the Labour First Minister of Wales, said he would "strongly oppose" a currency pact.
"For the most part, I think these are bluffs," Stiglitz said. "Whatever the outcome, there's going to be a negotiation and people are going to be looking at what's in the best interests of both parties, and there will be negotiations."
"I have been a little bit shocked at how much of it is based on fear, trying to get anxiety levels up and how little of it has been based on vision," the US economist added, suggesting Scotland could still prosper even if it had to use the pound without a pact or if it established its own currency.
"There are many currency arrangements that can work," he said. "I think this is a lot of to do about nothing."
Stiglitz, a former World Bank chief economist and chairman of the Council of Economic Advisers to then-US president Bill Clinton, offered Salmond some useful ammunition during the final televised debate of the referendum campaign.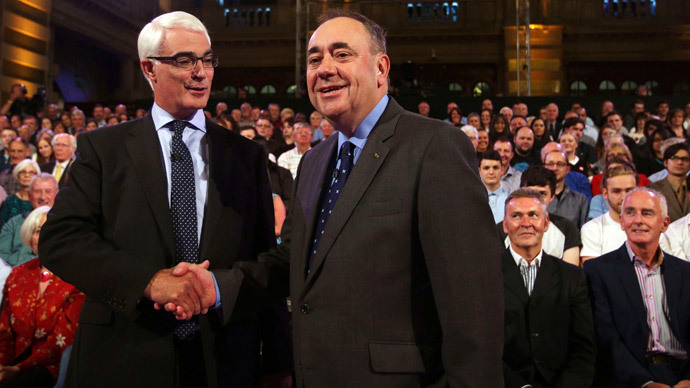 In a snap Guardian/ICM poll released soon afterwards, 71 percent of over 500 respondents judged that Salmond had won the debate, against 29 percent who said they thought Darling had triumphed. "Better Together" chairman Darling was seen to have won the first debate after pressing Salmond on his currency "Plan B."
On that occasion, Salmond came unstuck on the issue of what the currency arrangements would be for an independent Scotland. He advocates a formal currency union to allow it to use the pound, but has struggled to explain what he would do if the UK government in London refused.
Stiglitz said the main question for the referendum should be about differing visions of society, not merely confined to the currency question or North Sea oil resources.
"There is a vision on the yes side that I see: what would an independent Scotland be like? What could it do that it can't do now?" he said.
He approved of Scotland's enthusiasm for free higher education as a route to addressing inequality. "I think that's illustrative of a divide in a vision of society," he said. "For the notion of equality, access to higher education is really vital."
Stiglitz also cited post-independence support for NHS services and renewable energy to promote innovation and protect the environment.
By contrast, he argued English politics was far more in thrall to the financial sector and there was a tendency to "let the market drive everything". He also defended the SNP's threat to walk away from UK government debt if London refuses to share the assets of the Bank of England, the UK's central bank.
The majority of polls suggest Scottish voters will back remaining in the UK on September 18, with the Yes camp trailing in opinion polls by an average of up to 14 percentage points. However, Salmond's performance could offer Yes supporters the momentum they need to close the gap in the final weeks of the campaign.
You can share this story on social media: