Cameron says he won't quit if Scotland leaves UK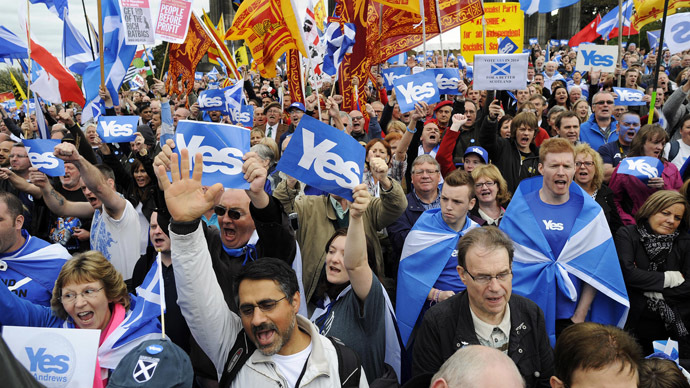 British Prime Minister David Cameron has said he will not step down if Scots vote for independence from the UK in a referendum on Sept. 18, and that his future would be decided by the general election in May next year.
Cameron was asked if he would resign if the United Kingdom broke up, as he had agreed to the Scottish referendum in 2012.
"It not about my future, it's about Scotland's future," Cameron told BBC Radio.
"I believe as prime minister, I did the right thing by enabling this vote to go ahead, but the vote is about whether Scotland stays in the United Kingdom, or separates itself from the United Kingdom," he said.
He made the comments after reports he had told his Conservative Party allies that he did not want the Scots to use the referendum to punish him and his party. The Conservative Party and the policies of Cameron's coalition government are deeply unpopular in most of Scotland, which is traditionally much more socialist than England.
Cameron's Conservative Party holds just one seat in Scotland, compared to 41 Labour seats. Despite his unpopularity north of the border, the prime minister said he believed he had shown "respect" to Scottish voters by giving them a referendum which was "legal, decisive and fair."
"In the end, you can't hold people in an organization against their will," Cameron said.
All of the three biggest Westminster political parties are campaigning to preserve Scotland's 307-year-old union with England. But the Better Together's "Project Fear" campaign to keep the union has not been as effective as the pro-independence campaign, promoted by First Minister Alex Salmond's Scottish Nationalist Party, which has a majority in the Scottish parliament, and an alliance of pro-independence socialists led by firebrand community leader Tommy Sheridan and Socialist Party Scotland.
In 2012, when Cameron agreed to a referendum, support for independence was much lower than it is now and Cameron believed the vote would fail.
But recent opinion polls show that support for independence has been gradually increasing, with the initial strong lead enjoyed by the "No" Campaign being gradually eroded.
An ICM poll last month showed a gradual increase in support for independence, with 42 percent saying they would vote "no" and 39 percent "yes" to splitting with the UK. Nineteen percent are still undecided.
Last month, one senior Conservative said that Cameron would have no choice but to quit Downing Street as he would "go down in history as the prime minister who lost the union."
Meanwhile, a group of Tory MPs also called for a change in the law to block Scottish voters from taking part in the 2015 general election if they vote for independence in September.
In what could be major political headache for Westminster, if Scotland votes "Yes," it would not break away officially until 2016 and in theory voters in an independent Scotland would still be able to take part in the general election, which is scheduled to take place on May 7, 2015.
A source close to Cameron's office the told the Daily Mail last month, "The prime minister is focused on making the case for Scotland to remain part of the United Kingdom."