Trident nuclear deterrent would be scrapped by an independent Scotland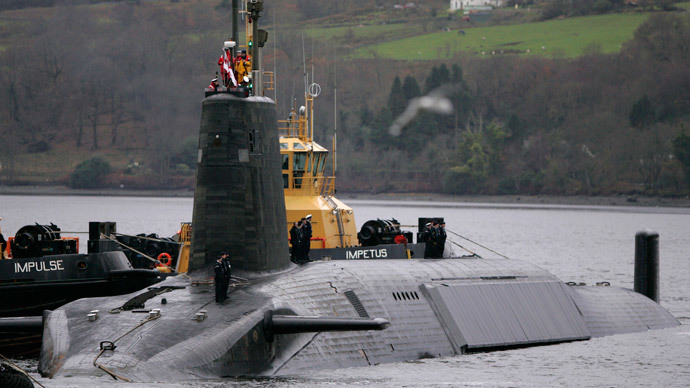 Scottish voters face the choice between a multibillion-pound tax bill to fund a new generation of nuclear weapons, or the chance to completely disarm in an independent Scotland.
Veterans Minister Keith Brown warned Scottish taxpayers could face an almighty burden if the UK Government decides to renew the program in 2016. In a move that could garner greater support for Scottish independence, the Scottish government set out plans to remove Trident from Scotland if September's referendum secures a 'Yes' vote.
Speaking during a debate at Holyrood, Brown said the decision on renewal "appears to have already been made," with the Conservatives, Liberal Democrats and Labour backing the retention of Trident. He also said the cost of renewal will also have implications for the UK's conventional defense forces.
"The Scottish Government position is that Trident should be removed from an independent Scotland by 2020 - before we are hit with a share of the further £100 billion in lifetime costs, at 2012 prices, which are estimated for its replacement," he said.
"We will also propose a constitutional prohibition on nuclear weapons being based in Scotland, ensuring they would never return."
The Trident Commission reports that taxpayers will be spending nearly £4 billion a year on nuclear weapons at 2012 prices, when spending reaches its peak in the next decade. This is the equivalent of almost one third of the entire current defense budget. The costs would impact on other defense spending, such as helicopter support and equipment for troops.
"That is money which could and will be far better spent on other priorities - something underlined by statistics showing one million people in Scotland are living in relative poverty," added Brown.
Scottish Government demand IMMEDIATE talks following a YES vote to have nuclear weapons removed from our waters! #indyref#NaeNukes#CND

— SocialWorkersForYES (@swforindy) August 7, 2014
'An example to the world'
The Scottish Campaign for Nuclear Disarmament (CND) welcomed Holyrood's decision to support the removal of Trident by the end of the first independent parliament, if there is a 'Yes' vote, and the proposed motion for a constitutional ban on nuclear weapons.
"An independent Scotland would have the opportunity not just to remove nuclear weapons from our shores, but to set an example to the world," said John Ainslie, Coordinator of Scottish CND.
CND estimate that the £100 billion required to renew Trident could employ 150,000 nurses, build 1.5 million homes or 30,000 new primary schools across the UK.
Former Mayor of Hiroshima, Tadatoshi Akiba, who supports CND said "your successful effort in Scotland would tell them and the world that citizens round the world have won this historic and monumental and humanitarian battle over nuclear weapons."
Getting rid of nuclear weapons is one of the main benefits of an independent Scotland #ScotDecides#indyref

— Scottish CND (@ScottishCND) August 5, 2014
NATO aspirations jar with disarmament
Opposition politicians in the Scottish Parliament, however, criticized the Scottish National Party (SNP) led government's attempt to hijack the nuclear debate to further the cause for independence.
"Perhaps they are hunting for a game changer which resurrects their campaign for September," said Liberal Democrat leader Willie Rennie.
"On the Labour benches there are many people who support unilateral nuclear disarmament, but their commitment to this cause has been questioned, and I think that is unfair."
Rennie went on to argue the government had not taken account of the "significant economic loss" if Trident were to be removed, given the number of Scots employed in the industry.
The Labour party said the SNP's ambitions to join NATO as an independent state, while rejecting nuclear weapons, is 'hypocrisy'. Labour MSP Iain Gray argued if Scotland joined NATO they would by definition be positioning themselves "four-square behind NATO's nuclear deterrent."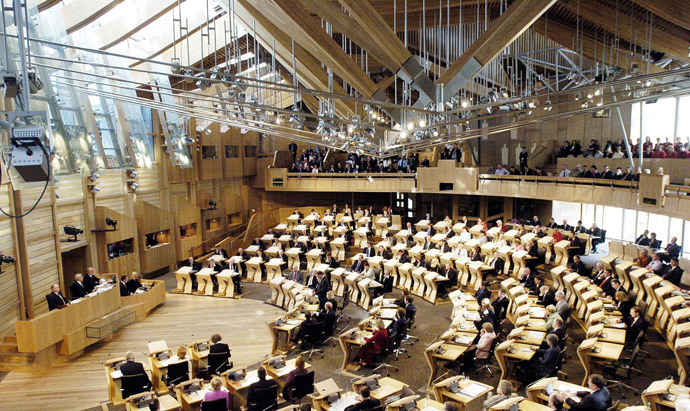 "It is hypocritical to say that we shouldn't have nuclear weapons, and then want to belong to NATO," said Gray.
Conservative MSPs also rejected disarmament, arguing that an independent Scotland could be left vulnerable at a time when world events could increase the pivotal importance of nuclear deterrents. Tory MSP Annabel Goldie said remaining in the union would safeguard Scotland's defense capabilities.
"We cannot dismiss the possibility that a major direct nuclear threat to the UK might re-emerge," said Goldie.
"An independent Scotland's defense capability would be much more limited, giving it much less clout, and much less influence, on the international stage."
An independent cross-party commission reported earlier in the year that Britain's deterrent is "a hostage to American goodwill."
Published in June, the report said: "If the United States were to withdraw their cooperation completely, the UK nuclear capability would probably have a life expectancy measured in months rather than years."
"The UK is dependent on the United States for many component parts of the guidance and re-entry vehicle, and for the Trident ballistic missile system itself."
You can share this story on social media: