Cameron won't resign if Scotland votes for independence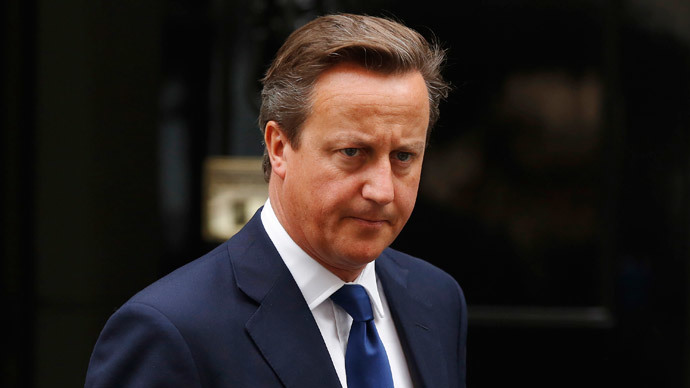 The British Prime Minister said it would "break my heart" if Scotland was to vote "Yes" in this month's referendum, but said his job would not be under threat.
It comes as recent polls showed that Alex Salmond's Yes campaign is closing the gap with just two weeks to go before the referendum.
Asked on BBC Radio 4's Today program whether he would resign, Cameron said, "I think it's very important to say no to that emphatically."
Cameron said, "What is at stake here is the future of Scotland. It is for the Scottish people to decide: Do you want to separate yourself from the United Kingdom or do you want to stay in the United Kingdom?"
"It's very important for people in Scotland to realize that the consequence of their vote is purely and simply about Scotland and its place in the United Kingdom. We shouldn't try and tie up into this vote the future of Alex Salmond, the future of me or anybody else."
"This is a desperately important question," he said. "I care passionately about it. It would break my heart if Scotland were to leave the UK, but I absolutely believe it is right to give people in Scotland the choice."
Cameron also said that Scots can still be "patriotic" and at the same time vote to remain in the UK.
"I would argue that you can be far prouder of your Scottishness…than your Britishness and still believe that you can succeed in the United Kingdom. It's not true that the only option is to vote Yes. You can be a proud, patriotic Scot but believe in this family of nations."
His comments come as support for Scottish independence is at its highest level ever according to a recent poll, with nationalists closing the gap against unionists just two weeks before Scots vote whether to split from the UK.
YouGov's poll showed the unionist lead had shrunk from 22 percent a month ago to just 6 percent. Overall, support for independence leapt to 47 percent in August.
Cameron has previously indicated he would not resign in the face of a yes vote, but he could face pressure to step down as he could be held responsible for the breakup of the 307-year union.
Cameron is also likely to come under pressure to postpone next year's UK general election by 12 months in the event of a vote for Scottish independence, in order to avoid the prospect of a Labour government that would depend on Scottish MPs. Amid warnings of a "constitutional meltdown" after a yes vote, a growing number of Tory MPs are saying they will call for legislation to be introduced to postpone the general election, the Guardian reports.
If it happens, this will be the first time since 1940 that a general election is postponed.
Labour leader Ed Miliband said that even Cameron's fellow Conservatives think they may lose the general election in May 2015. Miliband cited comments by Ruth Davidson, leader of the party in Scotland, who said on Tuesday "it isn't looking likely" her party will be re-elected, according to Reuters.
Scotland will decide in a referendum to be held on September 18 whether or not to become independent.