​Intl manhunt underway for 'British' extremist in beheading video
UK intelligence services and police are trying to identify a suspected British jihadist who beheaded a US journalist in a video released by the IS. A report suggests he could be the leader of a group of British fighters holding foreign hostages in Syria.
British Prime Minister David Cameron said it looked "increasingly likely" the man thought to be involved in the beheading is British, but that it was "not a time for a knee-jerk reaction." Cameron also said the government would "redouble" efforts to stop Britons traveling to Iraq and Syria to fight.
An international manhunt is now underway, with the FBI, MI5 and Scotland Yard's counter-terrorism command scrambling to identify the executioner in the video.
Unconfirmed reports suggest the militant in the video – who has an English accent – is from London or the South East and is called John, according to the Daily Telegraph.
On Tuesday, the extremist group Islamic State (IS, formerly ISIS/ISIL) published a video, titled 'A Message to America', of the moments before and after James Foley was beheaded. The armed man dressed in black next to Foley said the journalist's death was in retaliation for US attacks on IS in Iraq.
The footage has since been verified by the White House. Freelance journalist Foley, 40, had been missing since he was kidnapped in Syria in 2012.
A Guardian exclusive states that the British jihadist is believed to be the leader of a group of British fighters holding foreign hostages in Syria.
The Guardian reportedly spoke to one of the militant's former hostages, who identified him as the "ringleader of three British jihadists thought to be the main guards of foreign nationals in Raqqa," a stronghold of IS rebels in northern Syria.
Operating closely with two other British born militants, the Telegraph reports the group has been dubbed 'The Beatles' by fellow jihadists because of their nationality.
According to the Guardian, 'John' was the main rebel negotiator during talks earlier this year to release 11 Islamic State hostages, who were eventually handed to Turkish officials after ransom demands were met. An anonymous former hostage, who was held in Raqqa for a year, told the Guardian that the British executioner is "intelligent, educated and a devout believer in radical Islamic teachings."
Around 500 Britons are believed to have left the UK to join militant groups in Syria and Iraq.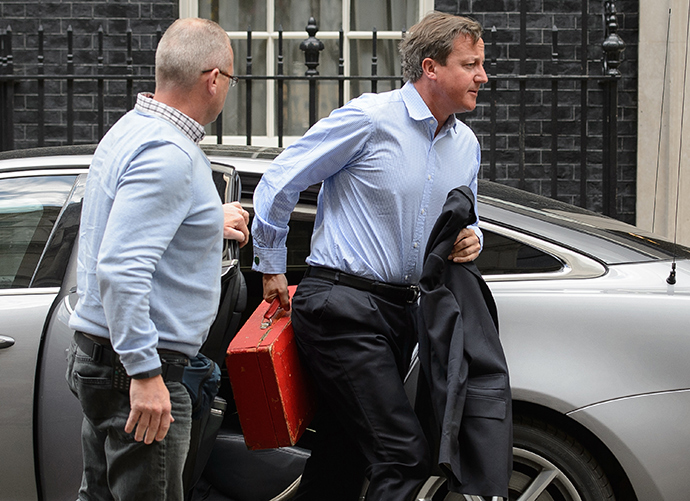 Islamic State militants demanded a $100-million ransom from the US for the release of US journalist Foley, the New York Times reported, citing a representative of Foley's family and a former fellow hostage. However, the US refused to pay, according to the paper.
The White House revealed on Wednesday revealed that a US Special Operations team tried and failed to free Foley, along with other hostages, during a secret mission in Syria this summer.
The graphic footage of the beheading of the journalist caused a worldwide outcry. The Metropolitan Police issued a warning on Wednesday that "viewing, downloading or disseminating" the video might constitute an offence under terrorism laws.
Meanwhile, ex-military chiefs issued a warning, saying Britain and the West must brace themselves for more bloody atrocities before Islamist jihadists in Iraq are defeated. They urged Cameron to deploy more RAF warplanes to fight IS militants.
Air Chief Marshal Sir Michael Graydon warned that the West must be prepared for jihadists taking retribution against other hostages as IS was hit by airstrikes. Referring to Foley's murder, he said, "Being blunt, we sadly must expect more of this. We are dealing with fanatical, religious people who are long past the point of normal behavior. They must be stopped."
UK Foreign Secretary Philip Hammond said he did not rule out the possibility that British soldiers would be sent to Iraq for training purposes, but said he did not view this as "boots on the ground," and insisted they would not be involved in combat.
UKIP leader Nigel Farage said on ITV's Good Morning Britain anyone involved in fighting with extremist militants should be prevented from returning to Britain. He said, "I think it's very simple, we should take away their passports, stop them coming back into the country."
Meanwhile, on Thursday British Muslim organizations condemned the "abhorrent" killing of Foley and agreed to work with the police to "root out" extremism.
"We are horrified at the abhorrent murder of James Foley, a reporter who initially went to the region to expose the human rights abuses of the Syrian regime. ISIS has murdered this man for no reason at all," a Muslim Council of Britain (MCB) spokesperson said in a statement.
Saying ISIS does not speak for Islam, MCB urged media organizations not to give the group "undue exposure" beyond conventional reporting, as the group "craved the oxygen of publicity."
Read more: 'Psychopathic violence': British Muslim organizations condemn ISIS extremism
You can share this story on social media: