'Reclaim the Power': 1,000-plus expected to attend 5 day anti-fracking camp in Lancashire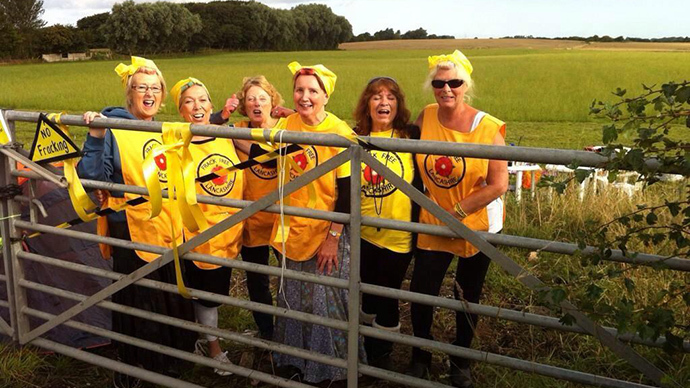 Over a thousand campaigners from diverse pockets of Britain are expected to attend "Reclaim the Power," a five-day anti-fracking camp in Lancashire, which kicked off on Thursday.
The event's organizers will host an array of skills and knowledge-based workshops over the camp's duration in an effort to inform campaigners about the social, environmental and economic dangers of hydraulic fracturing. The event is located on a site where controversial energy firm Cuadrilla hopes to conduct a fracking operation.
Training sessions, workshops and assemblies have been scheduled from Friday to Sunday, while Monday and Tuesday will be dedicated to direct action against plans to drill in the region, a leading organiser for the event told RT on Thursday.
Reclaim the Power's core organizers set up the camp in response to a concerned call for support from local residents who are protesting Cuadrilla's plans to frack in the district. A group of mothers and grandmothers had previously been occupying the site in protest against the energy firm's tentative efforts to begin drilling there.
@Frack_Off Love to Lancashire from #belcoo#CiaranMcMenamin and @BelcooFrackFree@BANfrackingNIpic.twitter.com/UNPEol9QUb

— ArtistsNI-NoFracking (@NoFrackingNI) August 9, 2014
The World Development Movement (WDM), a diverse coalition of UK campaign groups dedicated to tackling economic, climate and global injustice, will attend the Reclaim the Power event near Blackpool this weekend. The WDM argues that hydraulic fracturing within the UK is a manifestation of a political system that is facilitating an ever-increasing "corporate power grab" across Britain.
Despite the fact 14,000 objections to proposed licenses for fracking have been tendered by Lancashire residents, the WDM fears that permission to frack in the region will likely be granted, due to insidious ties between local politicians and fracking firms.Three councilors for Lancashire have been issued funds from companies that have a direct link to fracking firms, and another nine local councilors are associated with groups that have been party to similar cash flows, the WDM says.
Frack Free #Lancashire handed in record 14,000 objections to #fracking plans today! pic.twitter.com/2RTTcZIQuy

— Frack Off (@Frack_Off) August 7, 2014
North West Energy Task Force, a diverse group of local businesses who endorse fracking in the region, recently issued a statement saying it doesn't want "outsider activists disrupting tourism and causing trouble in our town". But according to one Fylde resident, who has actively campaigned against Cuadrilla's plans to frack in the region, the community are "being sold a con about 'lower energy prices', 'energy security' [and] 'long-term employment".
"We are being sold a brief boom-and-bust, with nasty long-term consequences. We need permanent solutions to our energy supply and use, not this get-rich-quick then get-the-hell-out industry", she said.
@talkfracking Lancs farmer told to take down signs warning of #fracking dangers puts up more! http://t.co/nXGYKsPM4cpic.twitter.com/6ZQPp4G8KY

— julie wassmer (@juliewassmer) August 13, 2014
Another campaigner associated with the group, Residents Action on Fylde Fracking, argues the wider shale gas industry and "Cuadrilla in particular" have acted dishonestly with the local community, and simply cannot be trusted with the wellbeing and health of the region's children.
"We do not want them here and so we are gathering to make sure we are heard and we are calling others to help us amplify this," she said. "As air and water do not recognize county boundaries, the defence is for everybody in the UK."
#PrestonNewRoad community #fracking blockade #lancs looking beautiful - join them! #communityfightbackpic.twitter.com/XmqaH1De8E

— Frack Off (@Frack_Off) August 14, 2014
Over the next few days, coaches packed with anti-fracking campaigners are expected to arrive at the camp from Manchester, London, Leeds and several other cities around the UK. In tune with the climate justice ethos that permeates the camp, others are forging connections via social media in an effort to car-pool their way to the event.
Notable campaign groups and NGOs expected to attend Reclaim the Power are the Lancashire Frack-Free Food movement, Fuel Poverty Action, oil and gas watchdog Platform, the wider UK anti-fracking network Frack Off, and Friends of the Earth.
A spokesperson for the camp said on Thursday:"We're excited to stand in solidarity with the community groups on the frontline of the fight against fracking."
After a short rest stop we're on our way to #ReclaimThePower. @CuadrillaUK Frack off! @nodashforgaspic.twitter.com/yvwD3WlC22

— Frack Off London (@FrackOffLondon) August 14, 2014
Renowned film and television director Ken Loach has publicly declared his support for Reclaim the Power.
"What you are doing is immensely important," he said on Thursday. "We all know that fracking will further devastate our precious environment. We know that gas will continue the destructive effects of climate change. And we know that the process is unsustainable."
"Are our politicians motivated by greed, stupidity or blinded by ideology? Probably all three.We want now to continue to develop ideas for a sustainable world where our resources and industries are socially owned, democratically controlled and work in the interests of everyone. And we need a political process that can achieve that."
A Lancashire Police spokesperson said the force was "monitoring the situation" and would "seek to work with protesters and local residents with the aim of ensuring any event is safe and peaceful".
Public support for fracking in the UK has declined to 24 per cent, research conducted by Britain's Department of Energy and Climate Change (DECC) revealed on Tuesday.
You can share this story on social media: