UK to hush fracking victims with $1.35mn as vast new reserves uncovered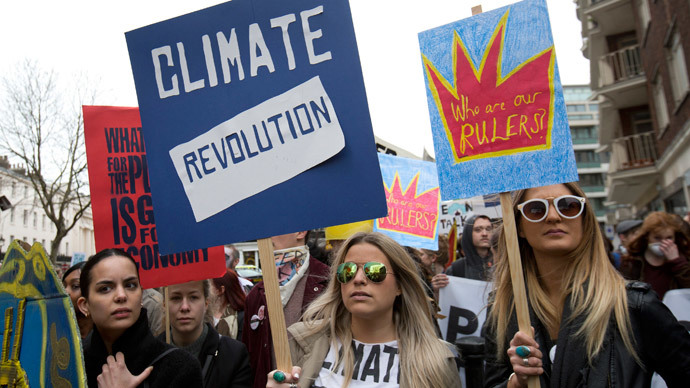 The UK government will attempt to buy off communities by increasing compensation for fracking operations after announcing plans to deny them the use of trespass laws. This comes just as several more billion barrels of oil were found in southern England.
Ministers will propose that 800,000 pounds (US$1,350,000) on average will be added on top of the existing program, under which a lump sum of 100,000 pounds ($168,620) and 1 percent of revenues are paid out to affected communities when a test well is turned on, British media report.
The new figure is a result of cumulative payments announced by the Department of Energy and Climate for lateral wells built around existing sites.
The plan is to have 10 wells on average at each site with an additional four lateral wells.
The initiative appears to be a move to reach out to homeowners disgruntled with the fact that trespass laws will not apply to the oil industry. That is a big win for energy companies, however.
The report detailing the big find will be released on Friday. Its authors at the British Geological Survey (BSG) are expected to announce somewhere around 1,300 trillion cubic feet of shale gas reserves in the counties of Kent, Sussex, Surrey and Hampshire. But the task of analyzing whether the extraction is economically viable is yet to be undertaken. The BSG has already found large shale gas reserves in the north.
Despite the report's findings, other new research has suggested that Britain will run out of oil, gas and coal within five years. And so will neighboring France – and Italy, which has less than a year of oil left. Russia is currently among the biggest oil giants in the world, with 50 years of oil, 100 years of gas and more than 500 years of coal.
The Conservative government largely supports Britain's hydraulic fracturing initiatives, with ministers claiming that it will reduce the cost of energy and create thousands of new jobs.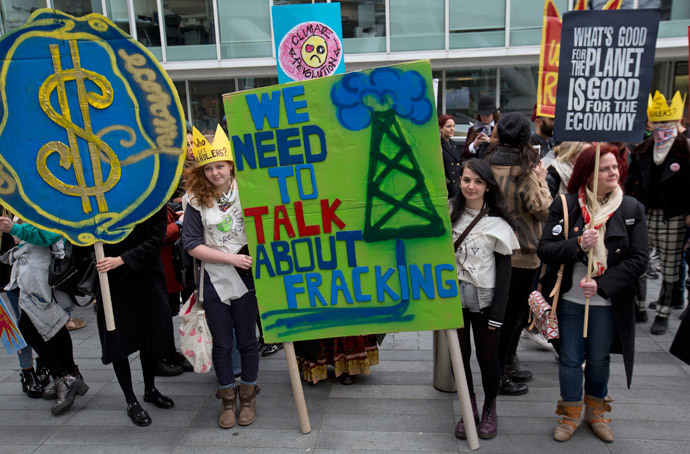 To facilitate the process they will be introducing new trespass laws exempting them from prosecution. Until now companies have been extremely cautious getting their hands on those vast reserves because of existing trespass legislation, according to the Times. Only one homeowner could make a case drag on for years. This is different from other industries, which get access underground by default.
Environmental activists are strongly opposed to the technique, which has already been proven to cause small earthquakes in the US. A number of studies have also revealed water pollution, and the practice has also been linked to health problems, including birth defects in unborn infants in the US.
The activists also believe fracking will accelerate the process of man-made climate change.
Further to this, regional activist Brenda Pollack believes that such a vast amount of shale gas as was found in the south will only disfigure a beautiful part of the country.
"These latest estimates will set alarm bells ringing across the South East of England where fracking firms seem intent on punching holes in some of Britain's most beautiful countryside in the search for profits," she told ITV.
Similarly, Caroline Lucas of the Green Party believes the government's claims about lower energy prices to be unfounded because "the gas or oil exploited would be sold on European markets and not used in the UK," the channel cites her as saying.
And yet, Prime Minister David Cameron believes that fracking is "good for the country" and simply believes the misunderstandings to be the result of a lack of information that requires reaching out to communities. And there is basis in that: surveys seem to suggest that people with less information about fracking are more likely to oppose it.
One official claims that locals would still be consulted whenever drilling occurs, adding that opponents of the practice will not be an obstacle.
The unnamed government official also told the Times that "if planning permission is granted above ground, we cannot allow a small number of people to delay the agreed development by trying to wrap the pipes in realms of red tape below ground."
But it has also been said recently that 'bribing' the people in order to continue fracking has been costing the British government thousands of votes.
You can share this story on social media: