​'Bribing' communities to frack is costing UK govt thousands of votes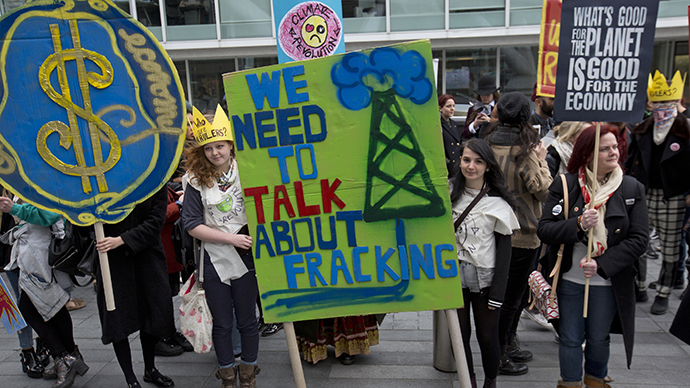 The UK government's push for fracking is costing it thousands of conservative votes, former energy secretary Lord Howell of Guildford said on Wednesday. He added that attempts to "bribe and cajole" rural communities into taking part is a "complete waste."
"Trying to start in Southern England, and in the Home Counties, or in rural and countryside areas anywhere, north or south, is a guarantee of longer delays, higher costs and increased hostility," the Conservative politician wrote in an article for the Institute for the Analysis of Global Security.

Last year, Howell's comments sparked controversy when he suggested that fracking should be confined to the "desolate and uninhabited" areas of the northeast.

He reiterated his views on Wednesday, saying that fracking is best kept in places "where the industrial revolution has left the worst historical scars."

"Every time ministers open their mouths to claim that fracking must start everywhere around Britain, and not just in carefully selected and remote (derelict) areas, they lose thousands of Tory votes," he added.

In order to encourage communities to accept the controversial hydraulic fracturing technique, areas have been offered incentives. Some have been offered £100,000 (US$168,100) for every well that is fracked, and a one percent share in any revenues from fracking operations.

The practice has caused a great deal of controversy, both in the UK and the US, on account of concerns over its environmental impact.

The fracking process consists of blasting fissures in rocks thousands of meters under the earth with water and sand to release trapped deposits of oil and gas. Injection wells which are used to dispose of highly toxic fracking wastewater have contributed to heightened earthquake activity across the nation.

The wastewater, riddled with hazardous and often undisclosed chemicals and contaminants, has been linked to a host of human and environmental health concerns.
You can share this story on social media: