N. Ireland anti-fracking campaign condemns petrol bombing of local security guard's home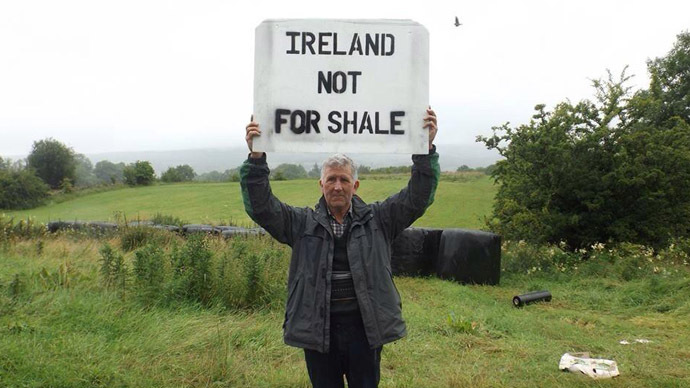 A petrol bomb has been hurled at the house of a security guard working at a controversial fracking site in Northern Ireland. The attack occurred on Sunday morning in the outskirts of Enniskillen, County Fermanagh.
The home of a Samdec Security worker was reportedly targeted, as a petrol bomb was thrown from a passing vehicle. No one was injured in the incident. Samdec Security have been hired by Tamboran Resources to guard the controversial site where the energy firm plans to instigate fracking.
Donal O'Cofaigh, a spokesman for a Fermanagh-based anti-fracking campaign, condemned the attack emphasizing, "Belcoo Frack Free's members are committed to approaching the dangers of fracking in a peaceful and dignified manner".
Central to the founding of a number of anti-fracking groups in Northern and Southern Ireland, Donal has been instrumental in Ireland's anti-fracking movement at large.
@Frack_Off Farmers fight back #belcoopic.twitter.com/c2KBz4enRL

— ArtistsNI-NoFracking (@NoFrackingNI) August 3, 2014
Public health concerns
Alex Baird, a local Ulster Unionist Party (UUP) councillor, expressed deep concern about the prospect of fracking in the local lakeland district. Such a practice could potentially cause "unstable ground structure" and polluted "land and waterways" leading to acute "public health" concerns, he warned.
But Baird denounced the attack on the security guard's home, insisting he would "not be party" to "any campaign that breaks the law, has sectarian overtones and is violent".
Reflecting on Baird's comments, O'Cofaigh insisted Belcoo Frack Free hopes to transcend political divides within Fermanagh.
"We want to empower people from both sides of the community to take action against fracking.We welcome the fact that the Ulster Unionist Party (UUP) has taken a position against fracking. It's a campaign that unites people and has the power to bring both sides of the community together," he said on Monday.
Founded several weeks ago, Belcoo Frack Free ispart of a larger network of groups focused on campaigning against fracking in Northern Ireland. The campaign's core objectives reportedly include "halting exploratory works with regard to shale gas development, helping to organize cross-community and cross-border demonstrations, and informing the wider public about the dangers of fracking."
The risks associated with #fracking are being obscured by lack of clear data from industry and government http://t.co/rcLatzyHUA@mwtingley

— The Conversation (@ConversationUK) August 4, 2014
A spokesperson for Tamboran Resources said the petrol bombing of its employee's home was "an orchestrated and abhorrent attack on a local family in the middle of the night."
"Tamboran fully respects the right to peaceful protest. We welcome calls from those who have called for any protests to be peaceful. However, we cannot ignore such attacks," the spokesperson added.
But counter to these claims, the energy firm recently took out an injunction, which prevents peaceful demonstrators from entering the quarry site at Belcoo. The injunction stipulates the obstruction of Tamboran staff member's work at the quarry is illegal.
Nevertheless, an anti-fracking camp located near the site reportedly operates under an array of clearly expressed non-violent principles. According to the Belcoo Frack Free campaign, protesters based there must adhere to these strict principles at all times. In response to Tamboran's plans to explore for shale gas in Belcoo, a group of local demonstrators have also staged an ongoing peaceful vigil there.
Farmers from both sides of border Tractor run-Threat 2 #belcoo & #farming from #fracking 3/08/14 @IFAmedia@IFJ_Patpic.twitter.com/V4r9x5M2G3

— Love Leitrim (@LoveLeitrim) August 3, 2014
'2,800 frack wells in an area of outstanding natural beauty'
Commenting on Sunday's petrol bombing incident, O'Cofaigh emphasized that Fermanagh's Belcoo Frack Free campaign will not be distracted or deterred from its objectives.
The anti-fracking campaigner insists that "shallow depth fracking" - the specific type of drilling planned in Fermanagh - has a particularly "high risk profile".
There are currently plans to construct "2,800 frack wells in an area of outstanding natural beauty", he warns. This development will allegedly infiltrate the cross-border counties of Fermanagh and Leitrim, posing a considerable risk to Ireland's Lough Allen basin.
Tamboran's target zone is a "pristine and unique environment", which encompasses a UN world heritage site known as the Marble Arch Caves Geopark, O'Caofaigh cautions.
Fracking developments in this region could total up to 8,400 wells, according to the Fermanagh-based campaigner. Associated environmental and economic risks have stoked the fears of local citizens, activists, politicians and environmentalists alike.
@donaloc@meenaghman@BelcooFrackFree#belcoo One -Tamboran Nil pic.twitter.com/d5JPgVMoIq

— ArtistsNI-NoFracking (@NoFrackingNI) August 3, 2014
Hundreds of concerned citizens recently attended a public meeting to discuss the risks associated with fracking in County Fermanagh. The attendees included an array of political figures from Sinn Féin, the SDLP and the Green Party.
Tom White, a Belcoo resident who was central to organizing the meeting, emphasized Tamboran's plans to frack in Belcoo harboured serious implications for both Northern and Southern Ireland.
"It's not a small little project on a small borehole being bored somewhere in a quarry in Belcoo. This affects the whole island and it is very important that people all over the island take note of this," he said.
A growing movement
Public opinion on the ground in Fermanagh is allegedly strongly opposed to Tamboran's plans to frack in the region. Opposition to the energy firm's proposals to construct thousand's of wells in this area is "almost unanimous", according to O'Cofaigh.
Members of communities throughout the district feel "they've been abandoned", O'Cofaigh said on Monday. There's been "no public consultation", and local people are fearful of the potential repercussions of fracking, he added.
Leitrim County Council condemn #Tamboran actions in #Belcoo#Fermanaghhttp://t.co/XLTJ2Yr7xY@AlexWhiteTD#NoFracking#RenewableEnergy#NOW

— Artists vs Fracking (@aafrackingeire) August 1, 2014
Tanya Jones, a representative of the Fermanagh and South Tyrone Green Party who also has been an active anti-fracking campaigner in the region, sharply criticized Sunday's petrol bomb attack, emphasizing it was "cowardly, stupid and potentially damaging to the frack-free movement".
"Quite possibly it was intended to be so", she said.
"There are a lot of people and organizations who would benefit from the discrediting of the massive public outcry against fracking in Fermanagh. There is also, very sadly, a generation in Northern Ireland brought up on tales of paramilitary heroes, young men who have imbued a nostalgia for violence, and for whom any target would be sufficient for their blooding.My personal view is that one or other of these phenomena explains whatever happened in Letterbreen early on Sunday morning", Ms Jones continued.
"I am as certain as I can possibly be that none of the people I have worked with over nearly three years of frack-free campaigning would ever contemplate such an action - and that neither would the gentle farmers I met in Belcoo on Friday evening and at yesterday's tractor run into Enniskillen", she concluded.
A post shared on social media on Sunday documenting local farmers protesting Tamboran's plans to frack in the locale has generated a world-wide response. Messages of support have been sent to Fermanagh-based anti-fracking campaigners from from America, Australia, Britain and elsewhere.
Belcoo Frack Free Tractor Run 3rd August 2014 http://t.co/ArSNXRqgGIpic.twitter.com/Q8BJEHJTVC

— Regina (@ladybirdshutter) August 3, 2014
On Monday night, Fermanagh District Council (FDC) passed a motion, which outrightly declared its opposition to fracking, according to myriad local campaigners.There was also reportedly a subsequent action in which the council approved legal aid for the Belcoo Fracking Campaign. Whether Stormont will respond to the demands of the council and local campaign group, however, remains to be seen.
Local campaigners' greatest concerns associated with fracking in the region relate to widespread pollution of ground water and air quality, as well as risks posed to Northern and Southern Ireland's farming and agricultural sectors by a potential "benzene leak".