UK govt to block arms exports to Israel if Gaza fighting resumes
Twelve licenses for British companies to sell arms to Israel will be suspended if fresh hostilities break out in Gaza, the UK government announced, following a review of licensed exports to Tel Aviv.
The review, released Tuesday, found the vast majority of exports currently licensed for Israel are not for items that could be used by Israeli forces in operations in Gaza in response to attacks by Hamas.
Business Secretary Vince Cable welcomed the current ceasefire in Gaza and expressed hope that this would lead to a peaceful resolution. He said, however, that the government had thus far been able to clarify whether the export criteria were being met.
"In light of that uncertainty we have taken the decision to suspend these existing export licenses in the event of a resumption of significant hostilities," he said.
"No new licenses of military equipment have been issued for use by the Israeli Defence Force during the review period and as a precautionary measure this approach will continue until hostilities cease," Cable added.
The decision comes after the government found that companies had been granted permission to sell weapons parts used by the Israeli Defence Forces (IDF) in Gaza.
The investigation, conducted over the past few weeks, has found that British companies have licenses to sell parts for tanks, fighter jets and military radar systems all used by the IDF.
The suspensions would not, however, affect components of Israel's Iron Dome missile shield, which helps to protect the Israelis from Hamas rocket attacks. A license worth £7.7bn for equipment to build mobile phone networks will not be revoked, as officials said there was no chance that such material would be used for military purposes.
Since 2010, the UK government has licensed £42 million worth of military licences to Israel, including targeting systems and drone components.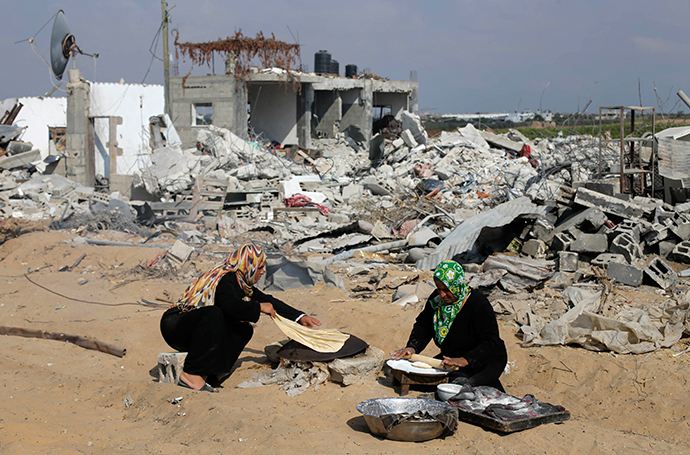 As it would be difficult to clarify Israel's use of the components, the Government will suspend the 12 licences if fighting resumes. Cable said the government "continues to monitor closely the situation in Israel and Gaza, and if existing licenses are found to be no longer consistent with the criteria, those licenses will be revoked."
The current ceasefire between the IDF and Hamas follows nearly a month of fighting. UN estimates said 1,948 Palestinians – including 1,402 civilians – and 66 Israelis have been killed since Israel launched Operation Protective Edge on 8th July.
But the Campaign Against Arms Trade condemned the UK government's "outrageously weak response to its own review of licensed exports to Israel."
Andrew Smith, a spokesperson for Campaign Against Arms Trade, said: "We always hear about the strength of the UK's arms control policy, but this underlines how poor it actually is. Even by Vince Cable's own admission, UK weapons may have been used in Gaza."
Smith added that the UK's decision to suspend these licenses only if the violence resumes is "simply not good enough." He thinks this move will be seen as a sign of political support for the Israeli government and military. "It should announce a full embargo on all arms sales to Israel as well as an end to all military-industrial collaboration with Israel," Smith said.
Baroness Warsi, who quit as a Foreign Office minister last week over government policy on Gaza, said the UK's position on arms export licenses to Israel was "morally indefensible."
The #UK Govt position to ONLY suspend IF hostilities resume is "morally indefensible". Surely the destruction to date meets the criteria!

— Sayeeda Warsi (@SayeedaWarsi) August 12, 2014
In response to the government's announcement, she tweeted: "I understand the arms export licenses will only be suspended IF hostilities resume!! So more people have to die before our criteria is met."
Last week, Deputy Prime Minister Nick Clegg, leader of the Liberal Democrats, called for arms export licenses to Israel to be suspended.
You can share this story on social media: