Over 60k sign petition to send Royal Navy hospital ship to Gaza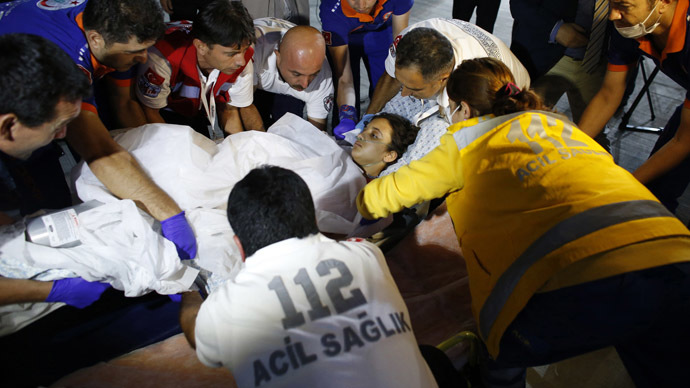 Tens of thousands of people have signed a petition demanding the British government send hospital ship RFA Argus to Gaza to help treat the escalating number of causalities. Downing Street has so far committed a small team of NHS medics.
Currently moored in Falmouth, Royal Fleet Auxiliary (RFA) Argus is a 100-bed nautical hospital, which has a "four-bay operating theater with a 10-bed Critical Care Unit, a 20-bed High Dependency Unit and a CT Scanner," according to the Ministry of Defence website.
Campaigners are pushing the UK government to increase its humanitarian aid to the region as the death toll in Gaza broaches 2,000. Their goal is 75,000 signatures. Israel launched operation Protective Edge on July 8. While the international community works toward a ceasefire, protesters have marched worldwide against the Israeli military operation.
Petition | Send RFA Argus hospital ship to #GazaUnderAttack | http://t.co/1KTi3MQbCgpic.twitter.com/STZ9yLTfFB

— Haitham Sabbah (@sabbah) August 10, 2014
A team of NHS medics will soon be deployed to Gaza to help treat the wounded. Downing Street announced it is sending doctors, paramedics, surgeons and anesthetists, who will initially be stationed with Medical Aid for Palestinians at Al Mokassed hospital in East Jerusalem until they are able to enter Gaza itself.
Petitioners, however, argue the prime minister's commitment doesn't go far enough, as they continue to call for the ship's deployment.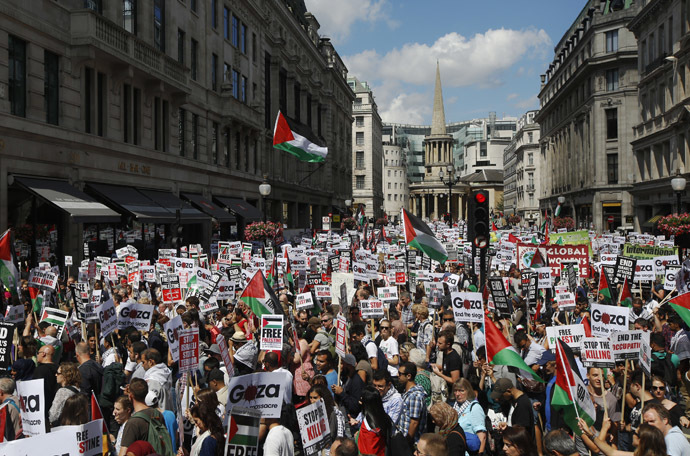 "A team of 15 medical staff will barely scratch the surface," campaign organizer Veronica Vickery said. "Around 10,000 people have been injured in the conflict and much of the medical and other vital infrastructure necessary for treating casualties has been destroyed.
"News reports during the conflict have told of UK volunteer doctors being held up at the border for a fortnight before being allowed in to do their jobs in Gaza," Vickery added.
Thousands gathering in London outside the BBC for today's #GazA9 protest. pic.twitter.com/14Gm11ssvh

— RT UK (@RTTV_UK) August 9, 2014
West Cornwall Liberal Democrat MP Andrew George has backed the petition and has called upon the Prime Minster to condemn Israel's actions and to lend greater support to the aid effort.
In a statement, George said he wrote to David Cameron "to urge the government to act quickly to deploy UK MOD assets in support of the humanitarian effort to help the beleaguered people of Gaza."
"Even those who do not agree with me – and, indeed, Baroness Warsi, and other notables – that the UK should do more to condemn the actions of Israel and to demonstrate international leadership in criticizing the disproportionate and indiscriminate nature of their military campaign, would, nevertheless, support such a humanitarian initiative," he added.
Hundreds of Italians have signed a similar online petition calling Israel's actions in Gaza a "slow genocide" of the Palestinians and demanding a "Nuremberg trial" for Israel over the "destruction" of Palestine.
The petition calls for Israel to face an international tribunal – a Nuremberg-like trial – for war crimes. Italian activists believe that not only the Israeli military and the government, but also the entire state of Israel and "its accomplices" should be brought to trial over current events, as well as those in the past and "the foreseeable future."
Meanwhile, British aid agencies have begun an emergency appeal to help the thousands of Palestinians caught up in what they call "a humanitarian emergency affecting virtually every man, woman and child in Gaza."
The Disasters Emergency Committee (DEC) said "even before the conflict began the people of Gaza were close to breaking point." They called on the public to make charitable donations to aid those blighted by the conflict.
Hundreds of thousands of Palestinians have fled their homes with many needing not only shelter, but also food, water, household items and urgent medical care.